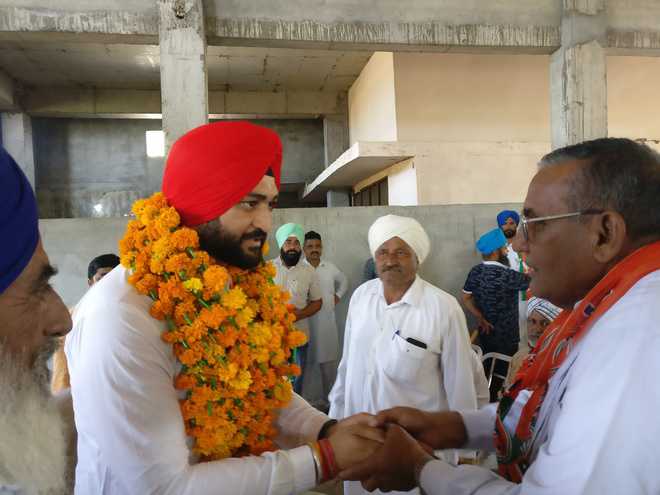 Sushil Manav
Tribune News Service
Pehowa, October 12
Sharp and agile on the hockey field, former Indian hockey captain Sandeep Singh is equally nimble in the election arena. Pitted against Mandeep Singh Chattha, son of former Haryana Speaker and veteran Congress man HS Chattha, he makes no mention of his rival in his speeches.
"Though politics is a different ball game altogether, I am getting a stupendous response," he observes while talking to The Tribune on the outskirts of a village on the Kaithal-Ambala road.
"I will talk about myself, my party, the PM and CM Manohar Lal Khattar but won't say a word about others," Sandeep says, as he proceeds to a temple in Nansi village where local BJP workers have organised a meeting. Even as his SUV is parked outside the temple, the title song of film "Soorma", based on his life, is played again and again. "People started calling me 'Soorma' after the movie was released," Sandeep says rather embarrassed, as a crowd carrying garlands of marigold gathers around him.
"When we watched him play for the country, we did not imagine that one day he would be amidst us," the announcer tells the crowd amid a roar of applause. Sandeep focuses on the achievements of the BJP government at the Centre and the state. "Pehowa lags in development. It surely deserves better. We need quality education and healthcare facilities in the constituency. We also need better roads and streetlights. The Khattar government has worked without bias in the past five years. With your blessings, I am sure I will be able to transform Pehowa.
"When I played for the country, I gave the game my very best. If given a chance to represent the constituency, I will do the same for the electorate," he tells the gathering. In 2006, Sandeep was seriously injured in a freak accident on board the Kalka-Shatabdi Express. Barely 20 years old then, he was on the wheelchair for a year. Once recovered, he made a remarkable comeback, playing for India in the 2010 Hockey World Cup.
"A newcomer to politics, he is already giving a tough time to opponents," observes a villager. Sudhir, a shopkeeper in Pehowa town, too anticipates a keen contest. "Chattha's father has been in touch with a large number of electorate while Sandeep is an outsider. However, a sturdy BJP government at the Centre and the state could tilt the scales in favour of the former hockey captain," he maintains.
Congress poll managers say they are confident of Mandeep Chattha's victory. "Chattha saab has done a lot for the constituency. People will surely vote for his son," they argue. Besides BJP rebel Swami Sandeep Onkar, INLD and JJP candidates too are in the fray.