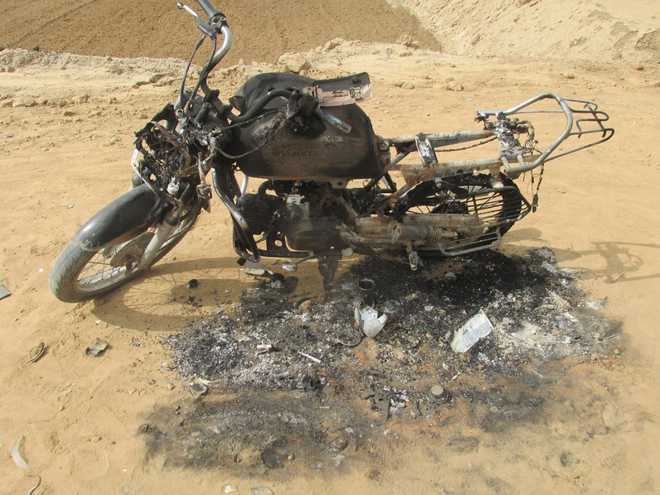 Deepender Deswal
Tribune News Service
Hisar, June 26
Fight over water took a violent turn on Tuesday as residents of two villages clashed in Hansi subdivision of the district which led to injuries to 12 people, including panchayat representatives from both the villages.
They also set afire and damaged eight motorcycles and the pump set during the clashes.
The incident took place at around midnight between the residents of Dhani Peeranwali and Puthi Mangal Khan villages.
Dhani Peeranwali residents were drawing water from the Puthi minor, which supplies water to Puthi Mangal Khan village, by installing motor pump set to fetch water for their village.
As the residents of Puthi Mangal Khan got a tip off about the extraction of water, they reached the spot and objected to it.
Dhani Peeranwali residents who were accompanied by two employees of the Public Health Department stated that they have got written permission from the district administration to draw water for their village.
However, after a while, Puthi residents came again with reinforcements and asked Dhani Peeranwali residents to stop the pump set while arguing that their village too did not have water.
This led to a heated argument and both the groups engaged in a clash.
A resident of Dhani Peeranwali alleged that rival villagers attacked them with sharp-edged weapons and lathis and even fired during the incident.
Several villagers, including three seriously injured, have been rushed to the hospital in Hisar town.
Among the injured are sarpanch representative Mahender Singh, Ram Nivas, Rohtash, Shankar and Radheshyam of Dhani Peeranwali village and Maniram Sadhuram and Kapil Kumar of Puthi Mangal Khan village who are admitted to the hospitals in Hansi and Hisar. Some others also suffered minor injuries.
Tension prevailed in the region after the clashes as DSP Narender Kadiyan visited the affected villages.
Police have been deployed in both the villages. The two village panchayats and other adjoining villagers have started meetings to sort out the matter.
Hansi city police station SHO Uday Bhan informed that they had started investigation into the violence and recording statements of the injured persons. He said that situation is under control now.