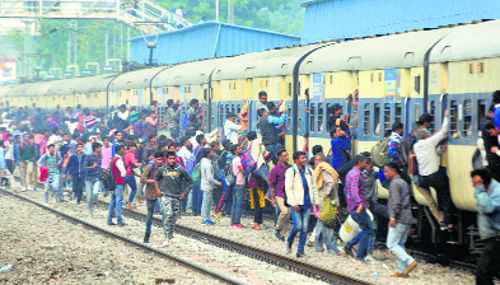 Chandigarh, November 10
Special trains and buses had to be put in service on Saturday as over four lakh candidates appeared in a written examination of the Haryana Services Selection Commission (HSSC) for recruitment to Group D posts in 11 districts of the state.
For filling 18,216 vacancies of posts like peon, beldar, animal attendant, helper, mali, etc, 17.26 lakh candidates are to appear in the written test scheduled for today and November 17 and 18, according to Bharat Bhushan Bharti, chairman of HSSC.
On any given day of this schedule, over four lakh candidates will have to move out of their home districts.
The test centres have been set up in various schools in Panchkula, Yamunanagar, Ambala, Kurukshetra, Karnal, Panipat, Kaithal, Hisar, Faridabad, Gurugram and Palwal districts.
"For the sake of secrecy and transparency in assigning centres, we have adopted an algorithm-based random allocation. No candidate will be appearing in the written examination in his or her home district, but the district to be allocated is generated without manual interference," said Isha Kamboj, Controller of Examination.
The examinations are being held in two shifts, with nearly two lakh candidates appearing in morning and evening shifts across the state. "The written examination is of 90 marks while 10 marks have been allocated to the socio-economic status of the candidates. Multiple-choice questions are being given. There will no interview," Kamboj added.
Since 30,000 candidates are to appear in 72 centres in Panipat and Samalkha towns, the district authorities have banned the entry of 5,000-odd auto-rickshaws in the town on exam days. No candidates are being allowed in with earrings, rings, bracelets, rubber bands, etc.
In Rohtak, too, a heavy rush of aspirants was witnessed at the railway station and bus stand since Friday evening. The number of job aspirants was so large that they not only occupied the passenger compartments, but also the engine of the Chandigarh-bound Intercity Express last night. The train got delayed and the railways had to run a special train.
Traffic Manager Naveen Kumar said the buses scheduled to run on other routes were diverted to Panipat and Panchkula to ferry the candidates to test centres. — TNS