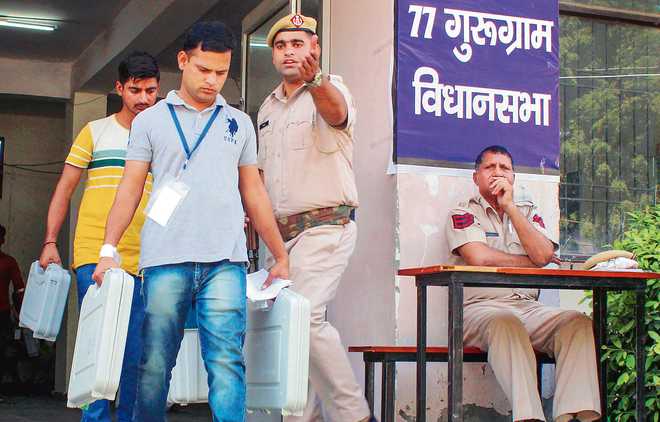 Sushil Manav
Tribune News Service
Chandigarh, October 20
As Haryana goes to the polls tomorrow, the BJP is looking to retain power, riding on nationalist agenda and claims of a 'clean and transparent' government by Manohar Lal Khattar. The Congress is hoping for a comeback and Dushyant Chautala's JJP, an INLD offshoot, to proving itself as the true heir of the Devi Lal legacy.
Edit: All set for battle of ballot
The Khattar-led BJP government has set a target of winning 75 plus seats. In 2014, the BJP had won 47 seats in the 90-member House with the INLD and the Congress bagging 19 and 15 seats each. As the INLD is in a shambles after a split in the Chautala clan, the Congress is eyeing for a comeback these assembly polls. At stake is the fate of 1,169 candidates.
Dushyant Chautala's JJP and his uncle Abhay Singh Chautala have been vying with each other to prove themselves as the true heir of Devi Lal's legacy. Tomorrow's poll is expected to decide that. It primarily seems a triangular contest among the BJP, Congress and JJP. Among those in the fray are CM Khattar from Karnal, former CM BS Hooda Garhi Sampla-Kiloi in Rohtak, RS Surjewala Kaithal, Kiran Choudhry Tosham, Kuldeep Bishnoi Adampur, Dushyant Chautala Uchana Kalan, INLD's Abhay Chautala Ellenabad and state BJP chief Subhash Barala from Tohana. The BJP has fielded sportspersons Babita Phogat (Dadri), Yogeshwar Dutt (Baroda in Sonepat) and Sandeep Singh (Pehowa).
The party ran a fierce campaign with the Prime Minister, party chief and Defence Minister addressing rallies across the state.
ON THE JOB
26,896 state police personnel
22,806 Home Guard volunteers
7,936 special police officers
6,001 police trainees
130 companies of Central forces
Voting from 7AM to 6PM
Top Stories