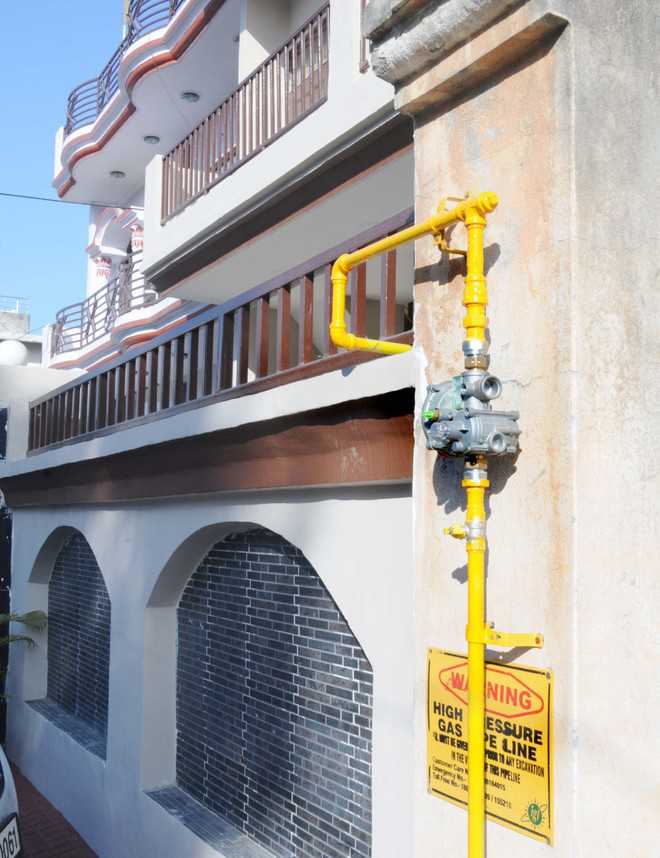 Parveen Arora
Tribune News Service
Karnal, April 2
About 5,000 households here will get piped natural gas (PNG) connections by year-end, claims a company tasked with the job. The work has already started with three households in Sector 4 here getting the connection.
Besides, two pumps of compressed natural gas (CNG) in Kohand and Samanabahu villages on the NH-44 have been established.
Indraprastha Gas Limited, a company assigned the project by the Petroleum Ministry, claimed that it would open two more CNG pumps — one on the Kaithal road and the other on the Meerut road.
"Three PNG connections in Sector 4 were issued four days ago. We have laid the pipeline for the supply of PNG in Sectors 4, 5, 6 and 13, and outer part of Sector 3, while the work for installing the pipeline in the remaining parts of the city will be completed soon," an official of the company said.
The company is also planning a compressed biogas plant in the district's Bastara village to generate biogas with the help of crop residue, thus providing a source of income to farmers. "The burning of crop residue causes pollution. So, our company is going to establish a biogas plant to utilise crop residue," the official said.
He claimed the company wanted to encourage environment-friendly fuel in urban and semi-urban areas. The PNG has some advantages. One, it is eco-friendly and safe. Two, it is lighter than air; it disperses in the air in case of leakage. Three, the PNG is cheaper than LPG cylinders.
"The supply of PNG will reduce the burden on gas agencies. Besides, it will check increasing pollution level in the city. The PNG bill will be raised on the basis of usage. The customer can track the usage in a metre which will be installed in every household," the official said.
The company has set a target of investing Rs250 crore on natural gas in five years to facilitate all users, including domestic, CNG, industrial and commercial, another official said.
Top Stories