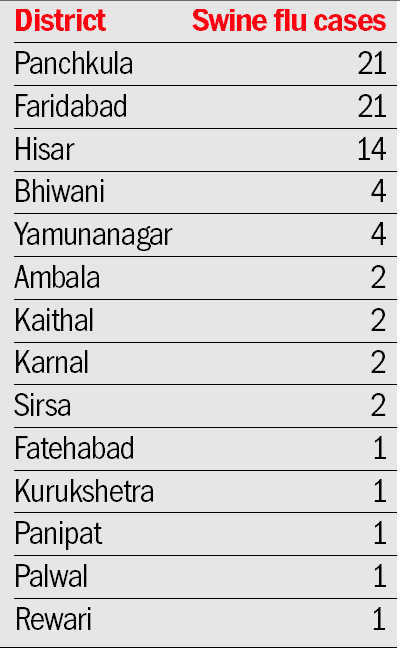 Sushil Manav
Tribune News Service
Chandigarh, August 17
The state Health Department is concerned over 77 swine flu cases reported across the state. While it claims only one person has died due to the disease, sources say at least 10 persons have lost their lives due to swine flu so far.
Panchkula and Faridabad have reported the maximum number of 21 swine flu cases each, followed by Hisar (14), Bhiwani and Yamunanagar (4 each), Ambala, Kaithal, Karnal and Sirsa (2 each) and Fatehabad, Kurukshetra, Panipat, Palwal and Rewari (one each), according to sources in the Health Department.
Health Minister Anil Vij today said he was seeking a daily report of the situation from the Director General of Health Services. "The health authorities have made elaborate arrangements to deal with the situation. Isolation wards have been set up in all districts and tamiflu, drug required for swine flu patients, has been made available in all hospitals," he added.
"Of 77 persons having tested positive for H1N1 influenza across the state so far, 46 have already been discharged from hospitals after successful treatment while seven patients are being discharged," Vij said.
Asked about the number of deaths due to swine flu, Vij said, according to the records of the Health Department, 32-year-old Gulzar Singh from Ambala died of lymphoid leukaemia he was suffering from for two years; Yograj (32) died due to unknown reason (as death certificate not procured); Janvi (aged 9 months) from Ambala and Rajbir (42) from Bhiwani died of pneumonia, Chander Prakash (62) from Faridabad died due to renal failure while Anju Bala (47) from Kurukshetra died due to hypertension. The hospital records show Deepshika (aged 8 months) from Panchkula and another baby were taken away against medical advice, which could be the cause of their deaths.
Top News
Warning systems alerted the pilots whose timely action preve...
Martyr PM's son who walked for national unity can never insu...
Says Rahul Gandhi's disqualification culmination of lawful p...
Indian Ambassador to the US Taranjit Singh Sandhu was not in...
The Khalistan sympathiser had failed to take control of the ...