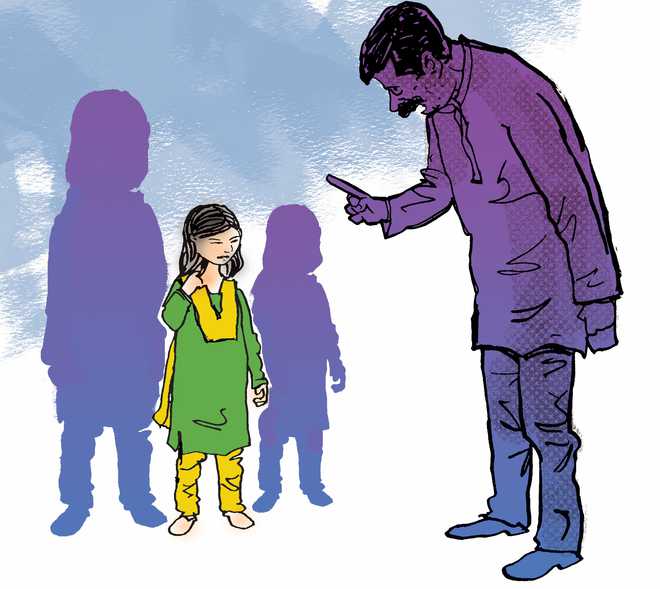 Naina Mishra
Tribune News Service
Chandigarh, February 10
In what can be termed as a disturbing state of affairs for children, 47 per cent of child care institutions (CCIs) and homes in the state withhold food and rest of children, 17 per cent use abusive language and 20 per cent spank children residing here as a method of enforcing discipline.
Of the 68 CCIs in Haryana, 32 have been found withholding children's food, 19 restricting movement of children, 12 using abusive language, 14 hitting and spanking children and six using different ways to insult a child.
These negative methods of discipline enforcement amounting to corporal punishment in the state are the highest in terms of percentage in the country. This has been brought forth in the report titled 'Mapping and Review Exercise of Child Care Institutions under the Juvenile Justice (Care and Protection of Children) Act and Other Homes'.
The report was recently made public by the Ministry of Women and Child Development. The data was collected between January 2016 and March 2017 from 9,589 CCIs and homes, both registered and unregistered, across the country.
Compared to other states and union territories, the percentage of CCIs and homes using the practice of withholding food, rest or use of toilet as a means of enforcing discipline is the highest in Haryana, followed by Bihar, Rajasthan, Jharkhand and Meghalaya.
In the use of abusive language, Haryana has once again reported the highest percentage of 15, followed by Arunachal Pradesh (13 per cent) and Meghalaya (12 per cent).
Another matter of concern is the percentage of CCIs and homes using hitting and spanking. The highest has been reported in Meghalaya (19 per cent), followed by Haryana (17.7 per cent), Arunachal Pradesh (12.5 per cent) and Delhi (10 per cent).
Rule 69-N of the Justice Juvenile Rules 2016 says, "No child shall be subject to corporal punishment or any mental harassment, including humiliating behaviour, affecting the dignity of the child." The report has designated Haryana and Arunachal Pradesh as having the lowest standard in enforcing discipline.
"It is a disturbing and a serious cause of concern to see that the above-mentioned negative and legally forbidden practices are in use. It is seen that various disciplining methods that involve physical harm and force are being enforced either separately or in combinations with different forms," reads the report. There are 68 CCIs in Haryana with over 4,000 children residing in these institutions.
When contacted, Jyoti Bainda, Chairperson, Haryana State Commission for Protection of Child Rights, said, "No such complaint gas been reported to me and such measures are forbidden. We will act against the CCIs using such measures as these are not found complying with orders of Child Welfare Committees. The administration in districts should strength CWCs as these are understaffed in many parts of Haryana."
"Previously, as per directions of the High Court, an inspection of all CCIs was carried out by the commission throughout Haryana. During inspection, many shortcomings like children escaping CCIs without permission and denial of CWC orders by CCIs came to light and a recommendation was given by the commission," he added.
More girls have been abandoned (73) and surrendered (32) in Haryana compared to abandoned (37) and surrendered (7) boys. The number of children in conflict with the law residing in CCIs and homes in Haryana is 2,287, much higher than in Punjab, which has 1,865.
Top Stories