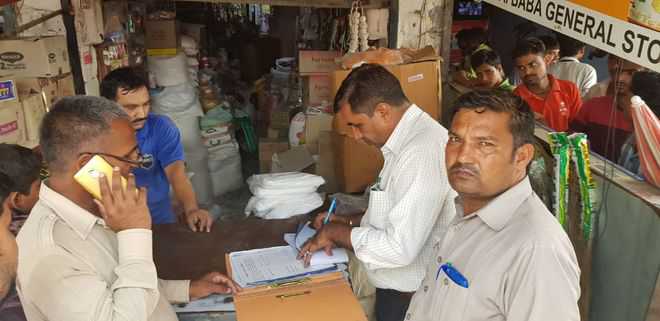 Bijendra Ahlawat
Tribune News Service
Faridabad, August 6
As many as 627 challans worth Rs16.48 lakh have been imposed on defaulters for using polythene, plastic bags in the past four months. Less than 600 challans had been issued earlier in the period since the ban came into effect in 2013.
"The drive against usage of polybags has been intensified and since March this year, we have been able to issue 627 challans against the offenders till August 3," said CD Sharma, Chief Sanitary Inspector, Municipal Corporation, Faridabad (MCF).
Claiming that the campaign had started showing its impact, he said very few shopkeepers now offer polybags for the items purchased by the customer. Three factories and six godowns have been sealed and a penalty of several lakhs has been recovered from the units, he said.
"A majority of the shops which include vegetable and fruit vendors have either switched to cloth bags or have started asking the consumers to bring their own carry bags," says AK Gaur, associated with the Faridabad Action Group (FAG), an NGO working for plastic-free environment.
"Our volunteers visit the markets to create awareness and this provides the shopkeepers adequate time to switch over before the raid is conducted," he said.
The issue was taken up in the state Assembly in 2016 when Nagender Bhadana, MLA from the NIT Assembly seat here, sought a reply regarding the measures taken. No challan was issued in 2014-15 and 2015- 2016, despite the fact the notification came in 2013.
Polythene and plastic waste constitute around 70 to 80 pe rcent of the garbage that is dumped in the dustbins or which get accumulated at the disposal points of the drains in the city, admit civic body officials
The state government notification which made the MCF the nodal agency also authorised several officials, including the District Magistrate, Additional District Magistrate, District Development and Panchayat Officer, Sub-Divisional Magistrate, City Magistrate, Public Health Engineering Department, District Food and Supplies Controller, District Town Planner and Haryana State Pollution Control Board to issue challans. The fine ranges between Rs500 and Rs25,000 for violations.
Top News
Jaishankar meets UN Secretary-General Antonio Guterres and P...
Canada is home to about 770,000 Sikhs - the highest populati...
Canada has alleged that Indian authorities were behind Nijja...