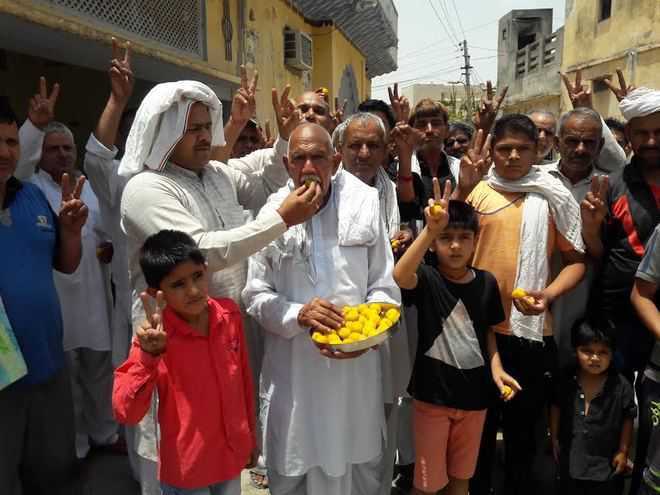 Ravinder Saini
Tribune News Service
Jhajjar, May 14
Khuddan residents are ecstatic about their village lad Bajrang Punia winning a gold medal at the Asian Wrestling Championship in Delhi on Saturday.
Though Punia and his family members are not residing in the village for the past two years, villagers celebrated the proud moment with enthusiasm by distributing laddoos and other sweets. They are planning to accord Bajrang a grand reception on his arrival in the village.
Elated villagers said the Khuddan lad had brought laurels to the nation, which was eagerly waiting for its first gold medal in the championship.
"Bajrang, along with his brother Harender and some friends, came here on Saturday morning to seek blessings at the temple of Swami Nityanand Maharaj before his bouts. He spent around an hour in the temple and also took blessings of elderly villagers present there to win yellow medal in the tournament," said Ajit Singh, a former sarpanch of the village.
Jagmal, another villager, said Bajrang had become an inspiration for youths of the village by proving his mettle in wrestling at global level.
Meanwhile, Bajrang's father Balwan Singh Punia told The Tribune that they had shifted to Sonepat two years ago so that Bajrang could practise at the regional centre of the Sports Authority of India (SAI). "Khuddan is far from the centre but we use to visit the village at regular intervals," he said.
He demanded that his son be appointed as DSP in the Haryana Police claiming that after Olympian Yogeshwar Dutt, Bajrang was one such wrestler from the state to have won maximum national and international medals. Balwan Singh maintained that they had approached the previous Hooda government several times in this connection but to no avail. At present, Bajrang was working as a TTE with the Railways, which was a lower rank considering his achievements, he added.
Top News
International body objects to 'undue influence' from 3rd par...
Russia has repeatedly threatened to fine sites - including G...