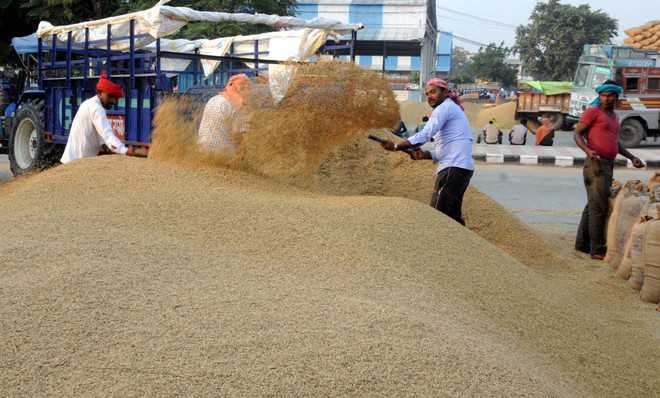 Parveen Arora
Tribune News Service
Karnal, October 4
With paddy procurement picking up in the rice bowl of Haryana, certain officials of the State Agriculture Marketing Board in connivance with procurement agencies, arhtiyas and rice millers are allegedly siphoning off money from the state exchequer by issuing fake gate passes for PR variety instead of PUSA 1509 Basmati.
PR variety is procured by the government for custom milling of rice (CMR), while it doesn't procure Basmati varieties, which are purchased solely by private dealers. By passing off Basmati as PR variety, arhtiyas collect Rs 1,835 per quintal MSP from the government though no crop is actually being purchased against fake gate passes.
Though farmers get their money — Rs 2,400 to Rs 2,600 as per the rate of the day for PUSA 1509 — arhtiyas and millers together earn huge profits by allegedly supplying cheaper PDS (public distribution system) rice brought from
UP, Bihar and other eastern states in the name of CMR. The PDS rice is apparently being adjusted to justify the purchase.
Sources say board officials as well as procurement agencies are allegedly getting a cut for conniving with unscrupulous businessmen.
Data suggests the arrival of PR variety this year has more than doubled in the Karnal grain market, and gone up manifold in the district as compared to last year. The arrival of 1509 variety has decreased as a corollary.
The arrival of 1509 variety stood at 1,39,625 quintal till October 3, while during the corresponding period last year, it was 1,99,180 quintal. On the contrary, the arrival of PR variety was 4,02,416 quintal till October 3, while it was 1,95,940 quintal in the Karnal grain market.
In the district, the arrival of PR variety was 18,23,181 quintal against 8,33,050 quintal last year.
"The 1509 variety is being shown on paper as PR variety, which falls in the procurement category, to get the payment from the government," sources say.
Some of them will later return PDS rice from UP and Bihar to adjust the purchased paddy, they claim. Last year, huge quantities of PDS rice were recovered from across Haryana, particularly Karnal.
Deputy Commissioner Vinay Pratap Singh said it was a serious issue and would ask the District Revenue Officer to look into the allegations and file a report.
Yashveer Singh, a farmer, said gate pass was issued of PR variety even though he was there to sell 1509 paddy. "My crop was procured at Rs 2,400 per quintal, but was told that Rs 1,835 would be given by the government, and the remaining by the buyer," he said.
An arhtiya claimed illegal purchase was going on unabated since the start of procurement.
Rice millers and Board officials, however, denied the charge. "There is no such malpractice in the grain market," said Hakikat Kadiyan, secretary, Market Committee, Karnal.