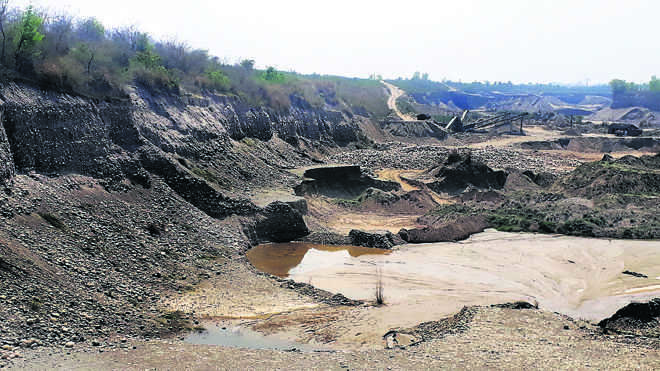 Shiv Kumar Sharma
Tribune News Service
Yamunanagar, April 9
The mining mafia has damaged a large section of the "right lower down-stream embankment" (RLDSE) along the Yamuna at Tajewala village by carrying out illegal digging up to 50 feet deep along the embankment.
The illegal mining poses a threat of breach in the RLDSE during the rainy season and may further cause damage to Hathnikund Barrage besides wreaking havoc in villages of the area.
Sensing the gravity of the situation, an officer of the Irrigation and Water Resources Department of Yamunanagar district has written to the higher authorities demanding a blanket ban on mining activity in the area.
An 11,000 feet long, 20 feet wide and 25 feet high RLDSE had been constructed on the right bank of the Yamuna on Haryana side — the left bank of the river falls in Uttar Pradesh — close to old Tajewala Barrage to protect villages from flooding. The Irrigation Department also spent Rs 34 crore to strengthen the RLDSE from 2010 to 2016.
Sources said the bed level of the Yamuna was around 35 feet deep from the upper end of the RLDSE. However, the depth of its other side had gone down to around 50 feet due to illegal mining along the RLDSE, posing a strong threat of breach.
Besides, the mining mafia has carried out illegal mining on hundreds of acres close to RLDSE in connivance with landowners. The involvement of authorities of irrigation, mining and other departments cannot be ruled out. The RLDSE area falls under the Water Services Division, Dadupur.
When Executive Engineer Haridev Kamboj was transferred to this division a few months ago, he wrote twice (on March 14 and April 1) to Yamunanagar DC Amna Tasneem, apprehending a breach in the RLDSE, damage to Hathnikund Barrage and loss of human life and property in the future. Sources say the local administration has held very few meetings in the past and taken no concrete step to curb illegal mining.
The state government had constructed Hathnikund Barrage in 1999, 3 km upstream on the Yamuna, replacing the old Tajewala Barrage, which was constructed in 1873. Yamunanagar Assistant Mining Engineer Sanjay Simberwal said he had taken steps to stop illegal mining after being transferred here recently. Social activist advocate Waryam Singh said the government should take stringent action against erring officers.
Digging up to 50 feet at Tajewala village
The Yamuna bed level is around 35 feet deep from upper end of embankment. The depth on other side is around 50 feet due to illegal mining
Hundreds of acres close to the embankment have also been illegally mined in connivance with landowners. The involvement of officials cannot be ruled out
An officer of the Irrigation Department has written to the higher authorities seeking a blanket ban on mining activity in the area