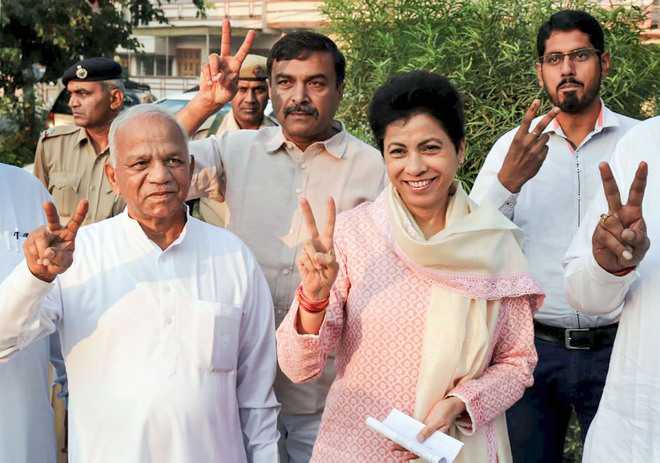 Deepender Deswal
Tribune News Service
Hisar, October 21
The polling passed off peacefully in Hisar, Sirsa and Bhiwani districts, except a few minor incidents of skirmishes and technical snags in EVMs. The polling was brisk in Narnaund, Adampur, Tosham and Bawani Khera segments since the beginning, but the urban segments of Hisar, Bhiwani and Sirsa recorded a sluggish voter turnout.
According to reports from the Bawani Khera segment in Bhiwani district, a technical glitch halted polling in Sipar village, the native village of Congress candidate Ram Kishan Fauji, who alleged it was a conspiracy by the BJP. Polling started an hour late at booth numbers 85 and 86 in Sipar village due to some technical problem in the EVMs.
Fauji, who reached booth number 85 early in the morning to cast his vote, had to wait for the EVM to start functioning.
In the Narnaund Assembly segment of Hisar, where Finance Minister Capt Abhimanyu is in a close fight with JJP's Ram Kumar Gautam, a minor brawl occurred in Rajpura and Budana villages. In Rajpura, a JJP booth agent took a lunch break to which the BJP agent objected, resulting in a minor brawl.
Hisar town recorded a low turnout, with posh localities like PLA Sector, Sector 15, Sector 13, Sector 14, Model Town and Urban Estate recording 20 per cent polling by 1 pm. Outer localities like Surya Nagar, Shiv Colony, Saniyan Mohalla and Kumhar Mohalla registered 50 per cent polling simultaneously.
District misses Jindal-Goenka battle
The absence of two business and political families — Jindals and Goenkas — from the poll was a factor for disinterest in the Hisar contest. While Savitri Jindal, Congress leader, opted out of the contest, Rajya Sabha MP Subhash Chandra Goenka stayed away from the elections. Goenka, who was elected RS member with the support of the BJP, campaigned for BJP in 2014 Lok Sabha and Assembly poll.