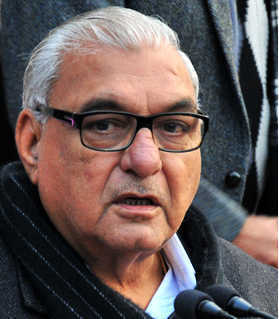 Chandigarh, March 13
In more trouble for former Haryana Chief Minister Bhupinder Singh Hooda, Chief Minister Manohar Lal Khattar today said his government has decided to hand over to the Central Bureau of Investigation two more cases of land deals related to the previous Congress regime.
"Our government has decided to recommend a CBI probe into Uddar Gagan land case of Rohtak district and another case of controversial land deal in Sonepat that has come to notice recently," Khattar announced in the state Assembly.
(Follow The Tribune on Facebook; and Twitter @thetribunechd)
Sources said the Haryana Urban Development Authority (HUDA) first said it was acquiring 850.88 acres of land in Sector 27-28, Rohtak, vide a notification issued on April 11, 2002, for residential/commercial purpose. However, the final notification of April 8, 2003, under Section 6 of the Land Acquisition Act was in respect of 441.11 acres.
On March 21, 2005, a private builder, Uddar Gagan Properties Limited, submitted its applications to the Town and Country Planning Department for licences to develop a colony across 280 acres of the released land and the licence was granted. Details of the Sonepat land are, however, not immediately available.
Khattar said the BJP government had already ordered a CBI probe into three cases related to the previous Congress government — re-allotment of a plot to Associated Journals Limited in Panchkula, allotment of HUDA industrial plots in Panchkula and Manesar land case. — TNS
Top News
Sri Lanka had earlier asked China to defer the visit amid In...
Two legislators from the Congress, one from Jitin Ram Manjhi...
Were returning from Amarnath yatra duty