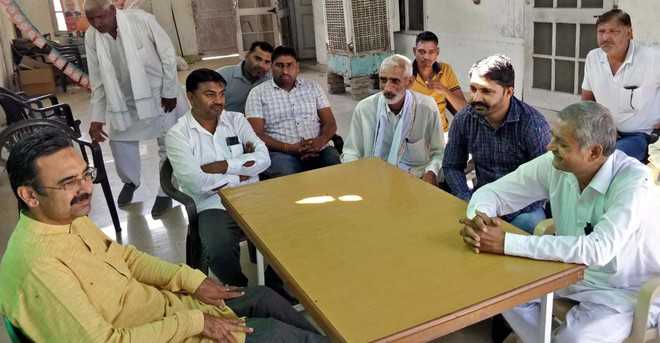 Parveen Arora
Tribune News Service
Karnal, October 22
After toil and hectic campaigning for more than 20 days, it was a day to unwind for the candidates who contested the Assembly elections to five seats of Karnal.
They woke up without any haste. Most of them had breakfast with their families after several days. However, curiously waiting for the results to be declared on October 24, they also discussed and analysed the voting trend at various booths in the constituency. After spending some time with workers at their residences, they went to their constituencies and thanked the voters for their support. The BJP candidates welcomed exit polls, while Opposition parties rubbished them.
BJP candidate from Gharaunda Harvinder Kalyan woke up around 6.30 am, one and a half hour later than his election routine. After having breakfast with his family after a long time, he spent the day with his supporters. "I am used to such a schedule. As an MLA, I used to work like this earlier as well," Kalyan said, while he was with his supporters at his residence in a relaxed mood. "The exit polls are right as the BJP is going to come back to power with a thumping majority," Kalyan added.
Assandh Congress candidate Shamsher Singh Gogi woke up at 4 am, his routine habit. After a little walk, he had breakfast with his family and interacted with party workers. He attended a meeting at the DC office related to counting and left for his constituency. "I along with my party workers analysed the vote share of the Congress at every booth and the party is going to form the government. The exit poll predictions are far from reality," Gogi said. "I thank the voters of the Assandh constituency for supporting me," he added.
Congress candidate from Karnal Trilochan Singh met party workers and took stock of the polling. He also denied the exit polls.
Congress rebel and Independent candidate from Indri Rakesh Kamboj remained busy expressing gratitude to his supporters. "I am confident of my victory as the people of the Indri segment have given me a lot of support, for which I am thankful to them," Kamboj said.
Meanwhile, the post-poll atmosphere was similar at the residence of Anil Rana, Congress candidate from Gharaunda. He woke up around 6.30 am and spent time with his family. Later, he interacted with the enthusiastic workers, who assured him that the Congress has won from Gharaunda and the declaration of the result was a mere formality.
Sitting MLA and BJP candidate Bhagwan Das Kabirpanthi, who was surrounded by supporters, said people were coming since morning and he was spending time with them.