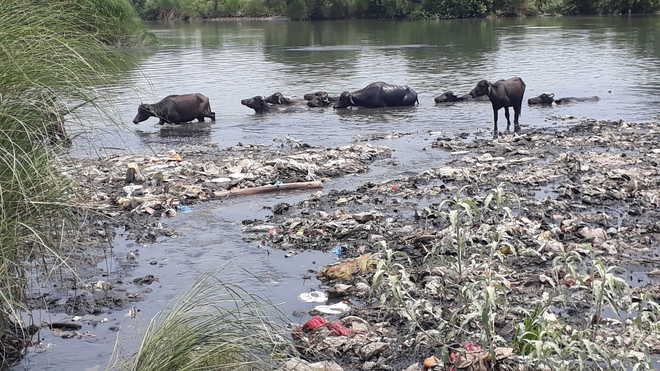 Parveen Arora
Tribune News Service
Karnal, June 25
The Central Pollution Control Board (CPCB) has issued directions to the Haryana State Pollution Control Board (HSPCB) to keep RSL Distilleries Pvt Ltd, Chandrao under surveillance as its drain carried untreated effluent or sewage to the Yamuna river.
"The quality of the drainage ditch samples indicates that the drain carries untreated effluent/sewage, which ultimately mixes with the Yamuna waters. A time-bound action plan for interception of the entire sewage and effluent or provision for its treatment would be prepared. The HSPCB should ensure continuous compliance with the norms," said the central board in the order.
Besides, it has also asked the state board to review the storage lagoon, where the untreated or partially treated effluent is stored. The central board also issued directions to check the pipeline passing beneath the unit, which has been claimed to be used for removing rain water, and explore the alternate system.
The state board has also been directed to review the design of the effluent treatment plant in the unit. It has also been asked to submit an action taken report with the CPCB in 30 days of the receipt of directions.
Earlier, in December 2018, officials from the CPCB and CSIR-National Environmental Engineering Research Institute had visited the unit and had issued it a notice after detecting violations. Later, the unit had submitted its reply, following which a team of the CPCB had visited the unit again on May 9, 2019, and found that it had complied with several norms. The team again collected some samples from the drain and found that it carried untreated effluent or sewage to the Yamuna.
Nirmal Kashyap, Regional Officer, HSPCB, said, "I have requested the higher authorities to constitute a team for proper monitoring of the unit." Arjun Singh, an official of the unit, confirmed that the team had visited the unit last month but said that he had not received any notice.