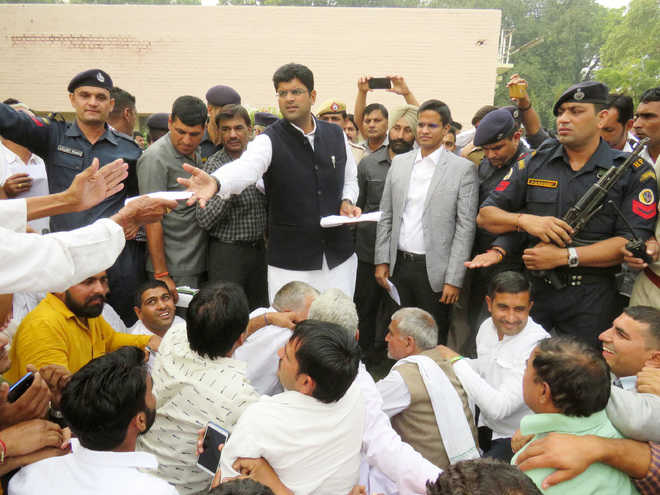 Deepender Deswal
Tribune News Service
Hisar, November 11
Stating that the state government has already procured 61 lakh metric tonnes (MT) of paddy, Deputy Chief Minister Dushyant Chautala assured the farmers that every grain arriving in the market will be purchased.
Interacting with the mediapersons on his first visit to Hisar after becoming the deputy CM, Dushyant stated that immediate action will be taken if there is any problem in the paddy procurement or if there is any incident of issuing fake bills to dupe the farmers by unscrupulous elements.
"The government has already exceeded last year's record purchase of 55 lakh metric tonnes of paddy. According to our information, 12 per cent of the total paddy produce is still pending for procurement. The government has taken the decision that every grain of the paddy will be purchased that too at government rate," Deputy CM said.
He also stated that the government has taken a policy decision to purchase the paddy straw at the rate of Rs 100 per quintal to comply the Supreme Court's directions. "The farmers can sell the paddy residue at the purchase centres and the government will utilise it in the waste-to-energy units to generate energy. The Centre has also decided to bear the transportation cost of the paddy straw to assist the farmers in disposing off the crop residue," Dushyant added.
On the delay in the process of ministry formation, the Deputy CM stated that the government has deliberately delayed the Cabinet expansion in view of the Supreme Court verdict in the Ayodhya land case. "Maintaining the law and order and social fabric was our priority, thus the ministry formation was kept on hold for some days. Now the process will be completed in the next couple of days," he stated.
He further said that they have started work towards fulfilling the agendas of the Jannayak Janta Party (JJP) as per the party manifesto. "Tackling the problem of drug menace is the priority as we have already started a campaign against it in the region," he said.
---
Taking up issues
Around 1,000 persons mostly from rural areas thronged the PWD rest house on the arrival of Deputy Chief Minister Dushyant Chautala hoping he takes up their problems
Unlike the previous government, where Chief Minister Manohar Lal Khattar's security was a barrier between the CM and visitors, Dushyant here freely met everyone
Dushyant flanked by the additional deputy commissioner Uttam Singh and superintendent of police Shiv Charan, listened to the peoples' grievances for about 40 minutes