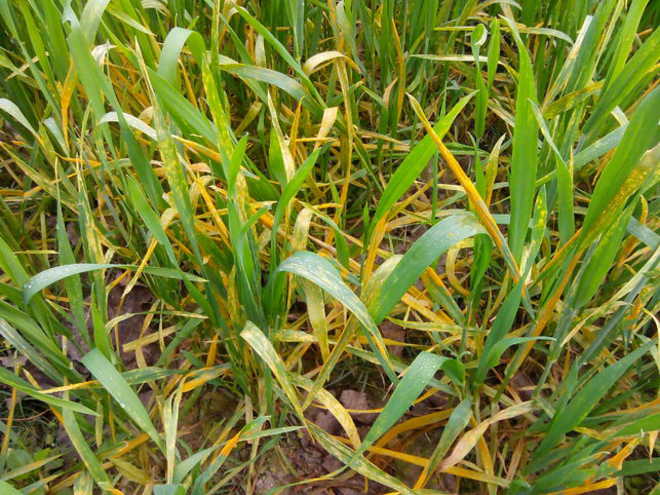 Our Correspondent
Yamunanagar, January 21
Nine days after the first case was reported in Yamunanagar, four more cases of yellow rust have been detected in the district.
Sources said four more cases were reported in patches in one acre wheat crop of Jitender Singh of Maheswari village (Puskar-67 variety), in two acre crop of Raj Kumar of Jai Rampur Jagir village (HD-2967 variety), in one acre crop of Joney Kumar of Pahadipur village (Super-172 variety) and in two acre crop of Ajit Singh of Munda Khera village (Barbat variety) in the last three days.
Deputy Director, Agriculture, Yamunanagar, Dr Madan Mohan said a team comprising Jaswinder Singh, assistant plant protection officer, Rakesh Kumar Jangra, quality control inspector, Inderjit Rana, subject matter specialist (plant protection), visited the affected fields.
Yamunanagar is one of the yellow rust-prone districts of the state. As much as 14,300 hectares was affected by the disease in 2012-13 here. However, last year, the disease was reported in only 400 hectares.
"Inoculum (the source of the infection) of yellow rust survives on barberi (a type of weed) plants in the kharif season in the foothills of the sub-Himalyan region. The disease disseminates to the plains through air. As the districts of Yamunanagar, Ambala and Panchkula fall in the foothills of the sub-Himalyan region, the disease first occurs in this area," said Rakesh Kumar Jangra.
Madan Mohan advised farmers to inform the Agriculture Department if symptoms of the disease were found in their crop. "Farmers must apply recommended fungicides Propiconazole and Bayleton to save the crop," he said.
Top News
Abdul Rauf Azhar, born in 1974 in Pakistan, was sanctioned b...
The attack comes days ahead of the celebration of the 75th I...
Sleuths of the probe agency are conducting raids at residenc...
The former West Bengal governor had recently defeated opposi...
Calls were being made from a foreign sim number, gang was op...