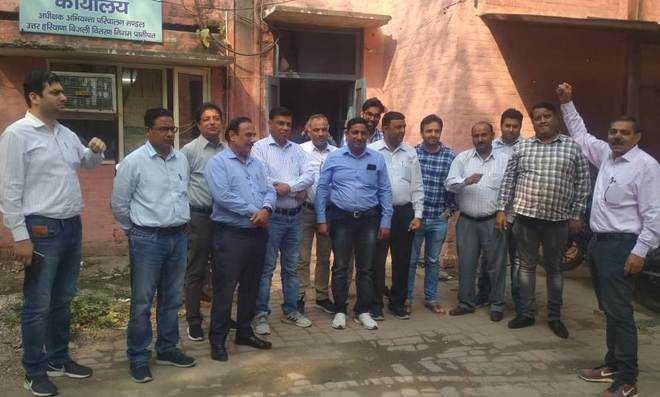 Bijendra Ahlawat
Tribune News Service
Faridabad, November 8
Four SDOs (assistant engineers) working with the Dakshin Haryana Bijli Vitran Nigam (DHBVN) for the past nine years have been removed from service for not clearing the mandatory Departmental Accounts Exam (DAE). Seven others have been demoted as junior engineers (JEs). The All Haryana Power Engineers Association has condemned the move and warned of launching a stir.
These officials were directly recruited as SDOs in 2009-2010 and deployed in various DHBVN circles. The termination letter says they were appointed AEs (Electrical) against Advt. No. 2/2009 and were issued appointment letter on June 9, 2010. The appointment was governed by the PSEB Service of Engineers (Electrical) Recruitment Regulation 1965 (as applicable to DHBVN), amended time to time and other applicable regulations.
As per regulation 18(2), notified on July 19, 2007, the total chances allowed to an assistant engineer to clear the exam were extendable to six by whole time directors and eight on case-to-case basis by the Board of Directors.
When the DAE is held, an assistant engineer shall be considered to have availed of the chance even if he or she does not actually appear for it. The exam includes four papers related to law, revenue, service rules and works of the department.
"The contentions submitted by the officials have not been found feasible, and are, therefore, not tenable and hence rejected. Accordingly, it is hereby ordered that the services be dispensed with immediately," says the letter issued individually to SDOs on November 4.
The All Haryana Power Engineers Association has announced to launch an agitation against the move. "We will soon hold a meeting to discuss the issue and take legal course, if needed," said Naresh Kakkar, general secretary of the association.
This is first such instance of dismissal by the DHBVN, although an SDO was dismissed from service by the Haryana Vidyut Prasaran Nigam (HVPN) last month.
---
Reinstate officials, demand Engineers
Panipat: Members of Haryana Power Engineers Association (HPEA) on Friday held a statewide protest against the dismissal of five SDOs and demotion of seven SDOs and for giving notices to score of engineers of Dakshin Haryana Bijli Vitran Nigam (DHBVN) and Uttar Haryana Bijli Vitran Nigam (UHBVN) as they failed to pass the departmental examinations. The protesting members want the officials reinstated immediately. Members of HPEA led by XEN KK Malik, state general secretary, gathered at the circle office in Panipat and protested. TNS
Top Stories