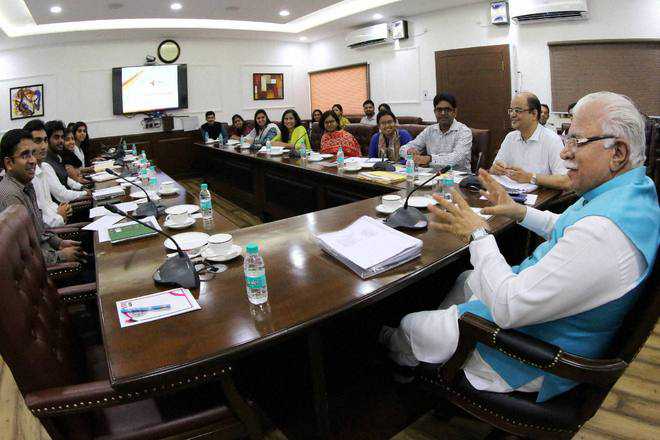 Tribune News Service
Chandigarh, May 26
The Haryana Government is all set to kick-start the fourth batch of the Chief Minister's Good Governance Associates (CMGGA) programme on July 21 in view of its success in the last three years.
Stating this here on Sunday, project director Rakesh Gupta said this ambitious fellowship programme launched four years back involved the youth as change makers in ensuring good governance and provided a platform to young talent towards creating social impact by working directly with district administration and the Chief Minister's Office.
He said the process of selection of 25 associates would start on June 1 by inviting applications online. He said after completion of the selection process, the batch would start working in tandem with the Chief Minister's Office and district administration on July 21.
He said the candidates selected would be placed across 22 districts to assist in implementing innovative approaches and ensuring transparency, efficiency and accountability of government initiatives.
He said the associates would spend six to seven weeks in districts, followed by a week-long forum at Ashoka University, the knowledge partner of the programme, to discuss challenges and the way forward across work modules.
He said interested candidates could apply to join the team and get impressive exposure to government functioning and policy making. He said the programme offered a competitive stipend of Rs50,000 to associates and accommodation in their respective districts.
He said more information regarding the process of selection, important dates and overall recruitment process were available on the official CMGGA website at www.cmgga.in.
He said the youth from across the country could learn more about the importance of good governance by working closely with the system, driving policy changes and creating mass impact for citizens across various domains, including education, health, transport and roadways, cleanliness, gender issues, citizen service delivery and infrastructural improvement.
He said 80 associates had worked on multiple programmes over the last three years and achieved impressive achievements. He said they ensured smooth implementation of the flagship programmes of the state.
He said many of them were now working with UN organisations, national and international NGOs, consultancy firms and government think tanks such as Niti Aayog, while some had ventured on the path of entrepreneurship.
Top News
The minister's comments come against the backdrop of the US ...
Describing the allegations levelled by Justin Trudeau agains...
Raids 51 places in Punjab, Haryana, Rajasthan, UP, Delhi
The seized substances are three packets of narcotics, wrappe...
Ashwani Kumar's work on potential reduction in TB treatment ...