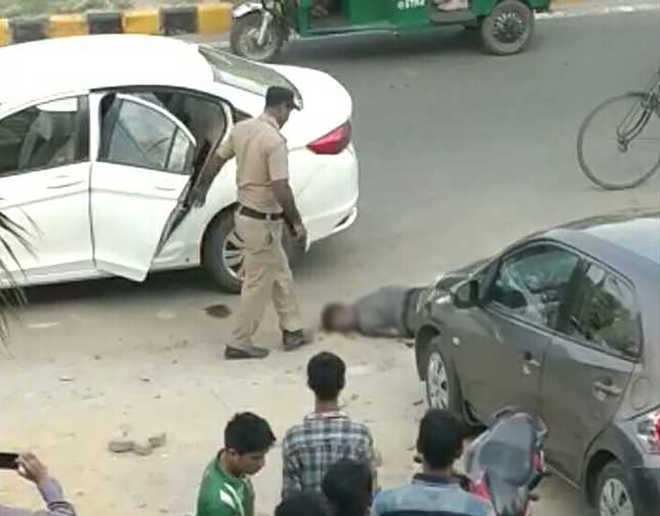 Sushil Manav
Tribune News Service
Chandigarh, October 14
The wife of Gurugram Additional District Judge Krishan Kant, who was shot by the official gunman of the judge, succumbed to her injuries during treatment at Medanta Medicity late Saturday night.
The gunman, Mahipal (32), had shot at the judge's wife and son in broad daylight at a busy market near South City-II in Sector 51 here on Saturday.
The accused later fled the scene in judge's white Honda City but was cornered by the police near Gwal Pahadi village. He opened fire but was overpowered and arrested. The police questioned the accused and indicated he might be mentally unstable.
The critically injured mother-son duo was taken to Medanta Medicity. While Kant's 37-year-old wife Ritu succumbed to her injuries late Saturday night, the condition of his 17-year-old son Dhruv, a Class XII student, is stated to be critical.
Her cremation will take place in Hisar at 4 pm on Sunday.
According to eyewitnesses, as Ritu and Dhruv stepped out of Arcadia market around 3.30 pm after shopping, the accused, who was accompanying them, immediately left for the parking lot to get their car.
As it took him some time to return, an angry Ritu reportedly had an argument with the gunman. Dhruv intervened, objecting to Mahipal's behaviour. The enraged gunman pulled out his licensed revolver and opened fire.
A bullet hit Dhruv in the head. He then targeted Ritu. As she fell, Mahipal fired again and a bullet pierced her torso. He even kicked her several times as she lay on the ground, said witnesses.
Turning to Dhruv again, the gunman shot him twice. He dragged Dhruv towards the car and tried to put him in the back seat.
After attempting to do so twice, he abandoned Dhruv and fled in the car, even as several onlookers filmed the incident.
Sources said Mahipal fired five rounds in all. Two bullets hit Ritu in the neck and torso, while Dhruv was shot once in the head and twice in the torso.
It was only after the accused fled the scene that people called the police and the victims were taken to the hospital.
Subsequently, police teams from crime units launched a pursuit to nab the accused. They recovered Mahipal's .38 bore revolver and the car.
An FIR was registered at the Sector 50 police station.
"The accused seems mentally unstable and has been evading questions. We are considering getting him medically examined. The interrogation is on to ascertain the motive for the crime," said Commissioner of Police KK Rao.
Meanwhile, Haryana Chief Minister Manohar Lal Khattar expressed shock over the incident and summoned the Home Secretary and state DGP. He has suggested counselling of cops entrusted with security of VIPs.
Top News
Over 1,100 injured, 56 of them grievously
Indigenous anti-collision train protection system was introd...
Had flagged ministry's laxity, sought definite time frame fo...