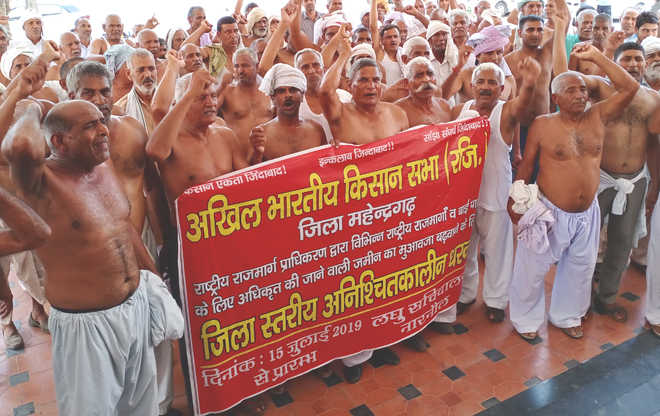 Ravinder Saini
Tribune News Service
Mahendragarh, August 24
Farmers of villages in the district under the aegis of Akhil Bharatiya Kisan Sabha (ABKS) took out a protest march in Narnaul on Saturday, demanding enhanced compensation for their land acquired for three national highways.
The protesters raised slogans against the BJP government at the Mini-secretariat.
"We have been protesting for 41 days. We staged a dharna and courted arrest but neither district officers nor the BJP government paid attention towards our demand. So, we were left with no option, but to hold a demonstration in a half-naked condition," said Dharamendra Yadav, vice-president, ABKS.
Yadav said more than 700 acres had been acquired for developing the Rewari-Jaisalmer National Highway-11, Kotputali-Hisar NH-148 B and Nangal Choudhary-Ambala NH-152 D.
He further said the National Highway Authoritys of India (NHAI) had announced compensation two-and-a-half times the collector rates, but landowners were entitled to four times the collector rates as per the Land Acquisition Act 2013.
The NHAI has announced compensation in the range of Rs17 lakh and Rs1.72 crore per acre, whereas the market rate is three times that. The collector rate ranges between Rs7 lakh and Rs70 lakh per acre.
Mahender Singh Yadav, district president, ABKS, said nothing could be more shameful than farmers protesting in a half-naked condition.
Top News
The decision amounts to creating a parallel jurisdiction, ta...
During today's games, a generator would be required to power...
Karnataka Deputy CM Shivakumar visits one of the schools to ...
'In Punjab, Rs 11 is considered a 'shagun', so I am announci...
Secretary of State Blinken was responding to a question on t...