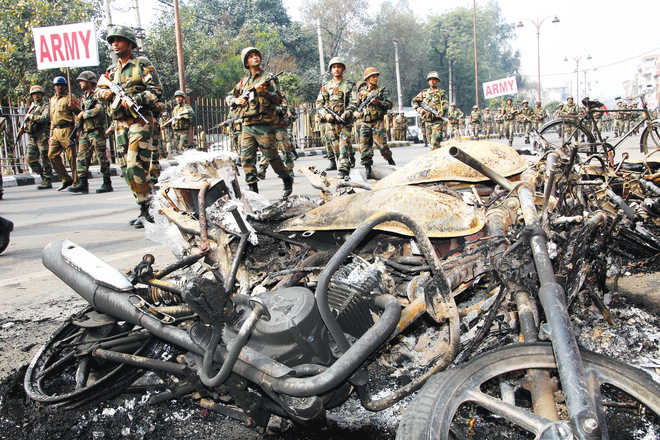 Sushil Manav
Tribune News Service
Chandigarh, February 6
With All-India Jat Aarakshan Sangharsh Samiti president Yashpal Malik threatening to disrupt BJP president Amit Shah's proposed Jind rally, the Haryana Government has decided to withdraw from courts 85 criminal cases related to the February 2016 quota violence. Home Department officials reportedly worked till late in the night on Monday to complete the paperwork.
Additional Chief Secretary (Home) SS Prasad today said approval had been given to withdraw 85 FIRs against 869 Jat protesters from 13 districts. "Approval has been accorded to withdraw six criminal cases against 33 accused in Bhiwani, eight cases against 231 accused in Fatehabad, five cases against 34 accused in Hisar, six cases against 96 accused in Jind, eight cases against 15 persons in Jhajjar and four cases involving 83 accused in Kurukshetra district."
(Follow The Tribune on Facebook; and Twitter @thetribunechd)
Giving more details, he said, seven criminal cases against 32 accused in Karnal, five cases against 44 accused in Palwal, 14 cases involving 143 persons in Panipat, one case against nine persons in Rewari, 18 cases involving 94 persons in Sonepat, two cases involving 55 accused in Yamunanagar and one case in Mahendergarh district were to be withdrawn."
Most of these cases pertain to rioting, unlawful assembly, wrongful restraint, disobedience of orders promulgated by a public servant and obstructing a public servant from discharging duty. These were filed in February 2016 after the Jat quota stir in the state turned violent.
Clarifying that no case pertaining to heinous crimes, such as murder, was to be withdrawn, Prasad said: "We have written to the district magistrates, asking them to initiate the process for withdrawal of cases."
Section 321 of the CrPC provides that the public prosecutor, with the consent of the court, may withdraw any case before the pronouncement of judgment. The Punjab and Haryana High Court is monitoring the cases pertaining to the Jat quota violence.
The state government had approved the withdrawal of 138 FIRs against 1,158 Jat protesters after the Khattar government's truce with Malik in March last year. But in many cases, the courts rejected the applications filed by public prosecutors. Narsher Singh, Director, Prosecution, said appeals had now been filed before the higher courts in some of these cases.
Jat quota stir leader Yashpal Malik had on Sunday threatened to disrupt the motorcycle rally of BJP president Amit Shah in Jind on February 15. "Jats will hold a roadshow in Jind on February 15 to oppose the BJP government's failure to meet our demands, despite Shah's assurance. We will disrupt his rally," he had warned.