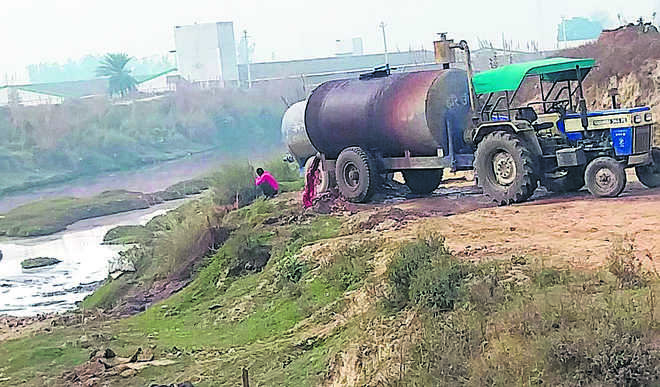 Mukesh Tandon
Tribune News Service
Panipat, April 11
Untreated industrial waste is polluting the Yamuna in Yamunanagar, Panipat and Sonepat districts, says a report of the Yamuna Pollution Monitoring Committee constituted on the directions of the National Green Tribunal (NGT).
Acting on the report, the Central Pollution Control Board (CPCB) has ordered the Haryana State Pollution Control Board (HSPCB) to identify and shut erring units in Yamunanagar, Panipat and Kundli in Sonepat district with immediate effect for not complying with the norms prescribed under the Water (Prevention and Control of Pollution) Act, 1974.
A joint team of the CPCB and the Central Council for Industrial Research (CSIR)-National Environmental Engineering Research Institute (NEERI) had inspected the quality of Yamuna water at various locations in all three districts and found that industrial waste was being directly released into the river without treatment.
The team monitored water quality at Wazirabad in Delhi, Palla village in Sonepat, Panipat, Yamunanagar besides drains — Ditch drain, Panipat drain, drain No. 8 at Sonepat and drain No. 2 at Panipat — from December 24 to 27 last year without informing HSPCB officials.
The teams assessed and identified the sources of pollution during the period and prepared the report, said the sources.
The team observed that the Yamunanagar drain, Panipat drain and drain Nos. 2, 6 and 8 carried untreated waste water of various industrial units located in the three districts.
The river water failed to meet the primary criterion — bathing water quality standard — at all monitored locations, said the sources.
Following the report, the CPCB Chairman has directed the HSPCB to identify and shut non-complying industrial units in the three districts with immediate effect.
It has also directed the HSPCB to submit a compliance report to the CPCB within two months.
Around 400 registered dyeing units are operational in Panipat, of which 300 alone are in Sector 29 part-2. Another 200 dyeing units are being run illegally in the district. As per HSPCB officials, 350 units are registered under the 'red' category, 220 under 'orange' and 25 under 'green' category.
The maximum number of erring units falls in Sanoli and Bapoli areas that directly release industrial water into the Yamuna, say sources. The CPCB had issued closure notices to 70 industrial units in Panipat under the Environmental Protection Act last year.
Samples from Sonepat, panipat, Yamunanagar
A Central team monitored water quality in Sonepat, Panipat & Yamunanagar from Dec 24 to 27 last year without informing state pollution board officials
It was found that industrial waste was being directly released into the river without treatment, says its report
The river water failed to meet the primary criterion — bathing water quality standard — at all monitored locations