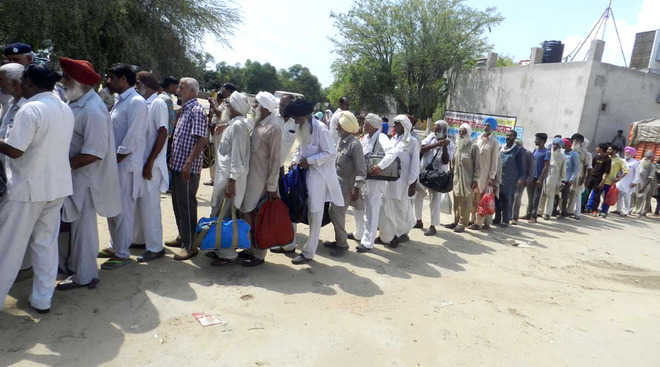 Vishal Joshi
Tribune News Service
Kurukshetra, September 4
London-based World Records University (WRU) that had bestowed PhD (honoris causa) on Gurmeet Ram Rahim Singh last year, now in jail in rape cases, is a non-academic entity.
'Doctorate' from this overseas university with an office in Faridabad comes for a price. Though the website is silent on the fee structure, it claims charges for an honorary doctorate as "very competitive and reasonable".
The WRU claims to be an autonomous university formed by the conglomeration of Record Books around the world.
According to the WRU website, any person whose name appears in various record-recognising bodies, including Limca Book of Records, Tamil Nadu Book of Records, Nepal Book of Records and Guinness World Records, are eligible to get an honorary doctorate from this overseas institute.
The Indian Book of Records is university's nodal agency in India.
The WRU claims to be registered under the United Kingdom government with offices in London, Faridabad, Folsom (USA) and Ho Chi Minh in Vietnam.
The varsity website says: "Any person, who has done something distinct and is a record holder of the respective nation, can apply for the doctorate degree."
There is no detail of the office-bearers of the university on the website.
But it says that one can apply online for honorary doctorate application form (DAF) with a copy of national/world record certificate issued by any of the eleven organisations registering record details. An applicant will write a thesis as per a format and a guide provided by the WRU.
However, academicians said there was a need to check activities of such bodies in India offering doctorates for a price.
"DLitt or PhD (honoris causa) is subject to recognising achievements of an individual in a particular field. But it is not sold. Since the WRU has an office in Haryana, there should be some central regulation to ensure honorary doctorate degrees are not issued in this manner," said an academician, wishing anonymity.
Dera chief on web portal's home page
The WRU website flashes two photos of Gurmeet Ram Rahim being awarded a doctorate degree. Ram Rahim and Dera Sacha Sauda created the first Guinness World Record in 2003 for a blood donation camp. The dera has total 19 entries in Guinness World Record, including largest vegetable mosaic, most diabetes screenings in 24 hours, most people tossing coins simultaneously
Top News
At a one-hour meeting in Bali, Jaishankar and Wang look forw...
Mann arrives in a golden attire sporting a yellow turban
'Chhote da number vadde ton baad hi aunda hai', says Chadha,...
Singh, 31, was arrested in Singapore in 2013 for possessing ...