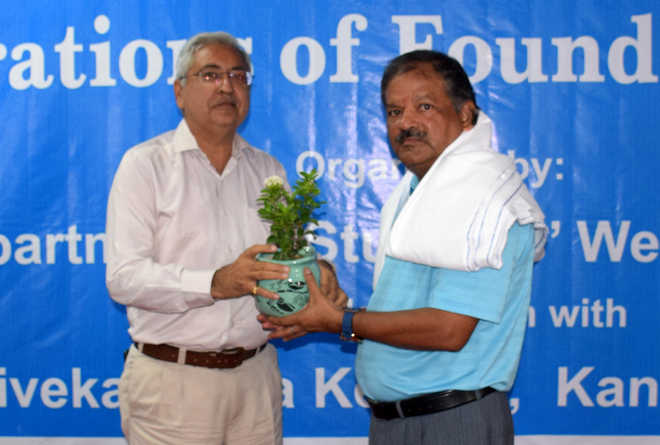 Rewari: Indira Gandhi University (IGU) here organised a special lecture on 'Swami Vivekananda's message to youths' under its ongoing week-long celebrations on the seventh foundation day. Additional General of Police (ADGP) RC Mishra was the key speaker who shed light on his life, his affection for Indian culture and the Vedas while another speaker Darshan Chauhan, state chief of Vivekananda Kendra, called upon the students and teachers to follow the path shown by Swami Vivekananda. Vice-Chancellor Prof SK Gakhar presented plants to the guests to spread the message of 'sow plants, save environment'.
GJUST asst prof in G7 expert panel
Hisar: Bijender Kaushik, assistant professor, Department of Printing Technology, Guru Jambheshwar University of Science and Technology, Hisar, has been included in Idealliance's G7 expert panel. Idealliance-G7 is an America-based leading organisation which makes the set of specifications and methodologies for achieving gray balance and is the driving force for achieving visual similarity across all print processes. Prof Tankeshwar Kumar, Vice-Chancellor, and Dr Anil Kumar Pundir, Registrar, congratulated Kaushik for the achievement.
Seminar on yoga and youth
Hisar: Department of Physiotherapy, Guru Jambheshwar University of Science and Technology, Hisar, organised a seminar on "Yoga for Youth" in the seminar hall of teaching block-4. Dr Jaideep Arya, Chairman, Haryana Yoga Council, was the chief guest. Prof Tankeshwar Kumar, Vice-Chancellor, presided over the function. Dr Arya said yoga is not only a way of life, but it can be a profession also. He said that the yoga industry has a turnover of Rs 300 crore but our share is little. The Japanese are honoured as the best judo trainers in the world. In the same way, Indian yoga trainers would be treated as the best trainers because India is the motherland of yoga. Despite Ayurveda being an Indian system, China's trade in Ayurveda is more than India's. We have to adopt our traditions again if we want to be 'vishwaguru' again.
Dyal school student in nationals
Karnal: Jagrit Niranjan, a student of Class X of Dyal Singh Public School, Sector 7, was selected for the national level competition at the North Zone Taekwondo Championship (under-19 and 74 kg weight categories) organised by the CBSE at Sirsa from September 7 to 11. Nina Rai Singh, academic adviser; Shalini Narang, Principal; staff and students of the school welcomed him. Jagrit bagged the silver medal in the national school games held at Gujarat in January 2019. He was also selected for World School Games in 2018-19.
Top Stories