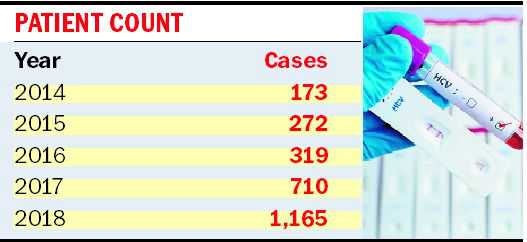 Parveen Arora
Tribune News Service
Karnal, March 27
Cases of hepatitis-C are increasing in the district every year. Health Department data says the district has witnessed 6.5-fold increase in cases between 2014 and 2018. Hepatitis-C can lead to severe complications, including cirrhosis, liver cancer and need for liver transplant.
The department found 1,165 new patients affected with this virus in 2018 during screening at government-run hospitals. Sources say the number could be high as people often hesitate to get themselves screened.
The data says there were 173 cases in 2014, 272 in 2015, 319 in 2016, and 710 in 2017. This year, the department has detected 145 new cases. The Assandh block is under the scanner of the Health Department as around 90 per cent of the detected cases are from there.
Hepatitis-C can be hereditary or spread through transfusion of infected blood or physical relations with an infected person. Besides, use of unsterilised dental instruments, and infected razor and scissors by barbers have emerged as new reasons behind the spread of the virus.
"Loss of appetite, lethargy and weakness are some of the common symptoms of the disease," says Dr Aman Yadav, district epidemiologist. "We are conducting screening camps at village level with the help of an NGO, volunteers of which are spreading awareness among people," he said.
Dr Saroj, Deputy Civil Surgeon, considered early screening essential for treating the disease. She said the course of treatment varied from three to nine months. She claimed they had given complete treatment to 922 patients in 2018. Prior to 2018, they had to refer these patients to the PGIMS for further treatment. Yadav said the state government was providing tests worth more than Rs 10,000 free of cost.
Top News
Ethics Committee of Lok Sabha had recommended Moitra's expul...
TMC leader alleges parliamentary panel is being weaponised b...
The observers will visit the states and give inputs to BJP p...
The firing incident of December 3 was caught in a CCTV camer...
Medical College police include the shocking details in their...