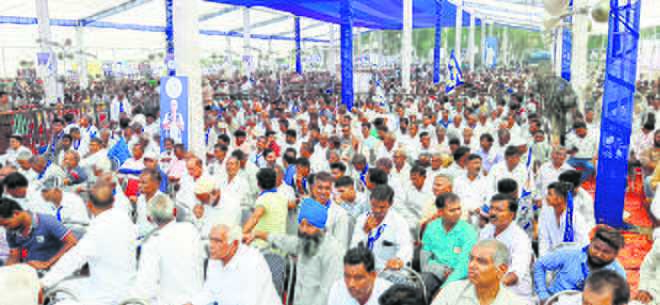 Sushil Manav
Tribune News Service
Chandigarh, October 17
Dalit vote is expected to play a decisive role in several Haryana constituencies. With no authentic caste data, tentative estimates indicate the Dalits comprise 18 per cent of the state's total population.
Before the emergence of the BSP, they would largely vote for the Congress. But over the years this has changed with various Scheduled Caste sub-groups voting for different parties. Within the Dalits, the Dhanak and Balmiki communities come under category A while the dominant Chamars are placed in category B.
Activist Krishan Swaroop Gorakhpuria points out that on the 17 seats reserved for SCs and STs, the voting trend has been simple. "If a party fields a Chamar candidate, those from his community will vote for him/her. Likewise, Dhanaks and Balmikis will go with the party that has fielded a candidate from their community." But the voting trend in the general category seats is different. As the Chamar community has a lion's share in government jobs, Dalits in the SC-A category are generally reluctant to vote for them. Traditionally Congress voters, they have gradually drifted towards the BSP.
The BSP vote share has been fluctuating in different elections — 1.62 per cent in 1989, 7.7 per cent in 1998 and 15.7 per cent in 2009 when Mayawati was anticipated to be named PM in the event of the third front making it. The BSP this time is unlikely to garner much support. Of the 90 Assembly segments, the party seems to be in the reckoning in Jagadhri alone, that too because of the candidate's own goodwill.
Sources say the Chamar votes can go to the Congress as the community has always been skeptical of BJP's Hindu nationalism agenda. Also, it has been resentful of BJP's bid to provide sub-quota to those in SC-A category. The latter, on the other hand, usually vote against the Congress. They could vote for the BJP this time in case of polarisation, as witnessed in the recent Lok Sabha polls.
The BJP has MPs from both SC-A and SC-B categories — Sunita Duggal from Sirsa and Rattan Lal Kataria from Ambala. It is uncertain whether the dominant Chamars will go with the Congress or the BJP.
Any consolidation of Dalit vote is bound to impact the turnout in several constituencies. "It's more tricky than you think. Asha Khedar is BJP candidate from Uklana. A Chamar, she married a Jat. Consequently, her family was ostracised by the Jats. Today, her own (Chamar) community is opposing her while members of the Jats are backing her to the hilt," explains activist Gorakhpuria.