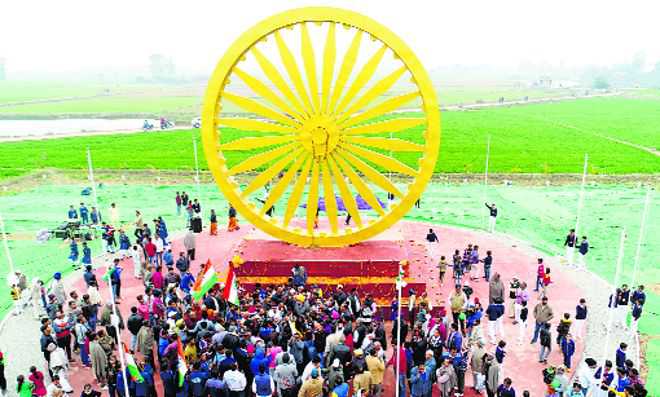 Shiv Kumar Sharma
Tribune News Service
Yamunanagar, January 5
India's biggest Ashoka Chakra having a diameter of 30 feet was unveiled by Urban Local Bodies Minister Kavita Jain and Rajya Sabha member Subhash Chandra at Topra Kalan village in Yamunanagar district on Saturday.
Kavita announced a grant of Rs 11 lakh for the construction of a community centre at Topra Kalan village.
The village panchayat and an NGO, Buddhist Forum, have planned to develop an Ashoka Edict Park on 27 acres in the village.
Emperor Ashoka had constructed a pillar in the village around 2,300 years ago, but in the 14 century, Feroz Shah Tughlaq took it to Delhi. At present, the pillar stands on the rooftop of an ancient three-storied building at Kotla in New Delhi.
Top News
BJP leaders attack the Congress, accusing the party of invit...
After the accident, people gathered around the temple lookin...
India reports 40 per cent jump in new Covid cases
The incident happened when proceedings were underway in the ...