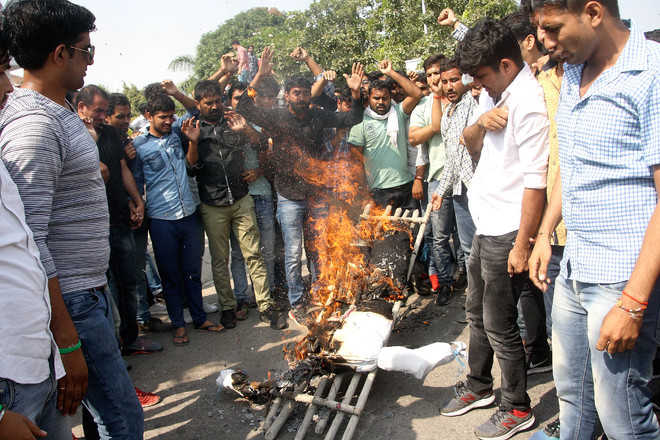 Tribune News Service
Rohtak, October 13
The police have registered a case of rioting, assault on public servants and obstructing them in the discharge of public duties and attempt to murder etc against 22 student-leaders by name and 200 unnamed students in connection with the yesterday's clash between the protesting students and police personnel on the campus of Maharshi Dayanand University (MDU) here.
Rohtak SP Jashandeep Singh Randhawa said a case had been registered after a constable had a major hand injury and a woman constable was hurt in a scuffle with the protesting students on the campus yesterday.
According to police sources, the persons named in the FIR include Indian National Students Organisation (INSO) state unit president Pradeep Deswal, Sumit of SFI, besides Vishal Sheoran, Mohit Sahu, Pradeep Sharma, Ravi Redhu, Neeraj Antil, Jyoti, Geeta, Lokesh and Bhisham Dahiya, who are associated with different students' organisations.
Meanwhile, MDU students staged a protest demonstration on the university campus today as well, though the number of the protesting students declined compared to yesterday. The protest, which included burning of an effigy, staging a dharna and raising of slogans, remained peaceful due to the massive presence of police force on the campus.
Students maintained that they would continue their protest and not let the state government hold indirect elections. Statewide protests would be staged across Haryana on October 17 when the elections are proposed to be held.
"The protesting students had also threw bottles and stones at the police personnel trying to stop them from moving towards the university gate on Friday," the SP maintained.
Top News
Police say the deceased — believed to be two families of Ind...
Jail officials say the formalities of the release are being ...
Karan says happy to see father coming out of jail, last 10 m...
Bhagwant Mann says it is the eighth toll plaza shut down by ...