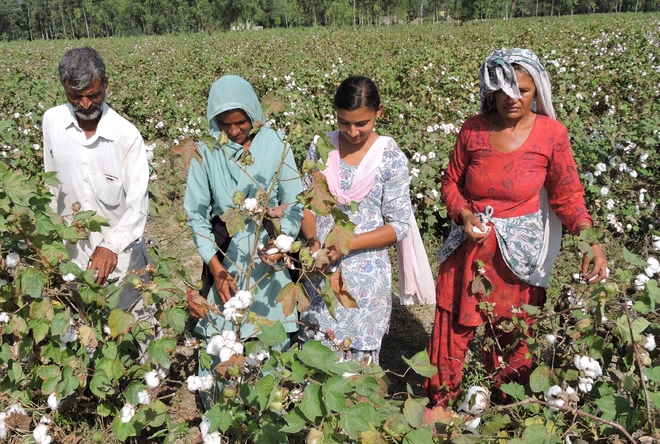 Parvesh Sharma
Tribune News Service
Jind, October 11
At a time when whitefly attack has sparked farmer suicides in Punjab and Haryana, nearly 250 farmers of Jind district expect bumper cotton crop and that, too, without using pesticides.
Like previous years, an insects education campaign, "Know insects before killing them", launched in 2008, helped farmers this year as well in killing pests with their indigenous technique of farming.
"Is baar bhi kapas ki fasal bahut acchi hui hai. Safed makhi ki koi problem nahi hai (This year too, cotton crop is standing good. There has been no whitefly attack)," said 45-year-old Ramdev from Lalit Khera village. He has been associated with the campaign since its beginning and refrains from using pesticides.
The campaign was started by former Nidani Agriculture Development Officer (ADO) Surender Dalal who passed away in 2013. Nearly 250 farmers, including 100 women, from 16 villages of Jind — Nidana, Nidani, Joura,
Lalit Khera, Radana, Chabri, Samla, Chabra, Igra, Rajpura Bhain, Mohangarh, Samla, Khargram Ji, Hathangarh, Aleva and Chati Sampla — have been working as Master Trainers (MTs) to spread awareness about the campaign. These MTs have been motivating and training others to identify "friend" and "enemy" insects and avoid the use of pesticides.
"We have identified 204 insects, of which 43 are vegetarian and remaining are non-vegetarian. We have even named them. Pesticides are not required to keep these insects at bay. Now, we have become experts and can check insects spread across an acre within a few hours," said Ranbir Malik, MT from Nidana village.
"The government distributes hundreds of crores of compensation to whitefly-affected farmers many times. We can save this amount by training farmers in this technique if the government provides us little financial help. This way, we can even make our food poison-free," said 42-year-old Mukesh, a woman MT from Radhana village.
Jind Deputy Director, Agriculture, Ram Partap Sihag said: "It's a fact that the crop of farmers associated with this campaign have not suffered any losses due to whitefly attack, but those who resorted to pesticides have suffered heavy loss. This proves that pesticides are not needed to keep whitefly at bay."
Top News
Railway Board has recommended for Central Bureau of Investig...
Amid 'pro-Khalistan sloganeering, the 39th anniversary of Op...
Focus on ways to expand bilateral defence and strategic ties
The incident took place when Binny had to load his SUV for t...