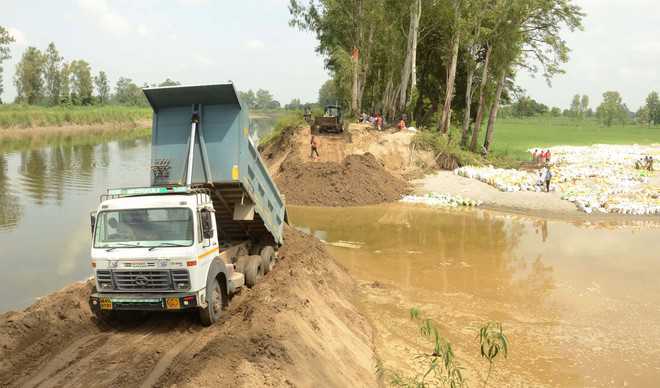 Tribune News Service
Karnal, September 4
Farmers of Shekhpura and adjoining villages affected by a breach in the Western Yamuna Canal (WYC) have alleged that illegal mining led to the breach, and accused officials of being a mute spectator.
Munish Sharma, Executive Engineer (XEN), Irrigation, however, refuted the allegation. "No mining activity has ever been reported at the breach site. The reason for breach is being ascertained," he said.
Deputy Commissioner Aditya Dahiya said the Irrigation Department would inquire into farmers' allegation and, if found true, action would be taken.
Even three days after the breach, officials are still on the job to plug the gap.
Meanwhile, Chief Minister's Officer on Special Duty (OSD) Amrinder Singh visited affected villages. "A special girdawari will be conducted in Hinori, Shekhpura, Dhanokheri, Chapra, Chapri, Budhanpur Khalsa, Bhoji Khera and Pathera villages. The government will bear the losses," he said.
He directed the Chief Engineer, Irrigation, to suspend Sub-Divisional Officer (SDO) Ravinder Kumar, Junior Engineer Vedpal and "beldar" Karamvir for the dereliction of duty, and sough an inquiry against the higher authorities.
The DC said relief camps had been set up in Jainpur government school and a gram sachivalaya. "Villagers are being provided with health facilities and livestock with vaccination," he added.