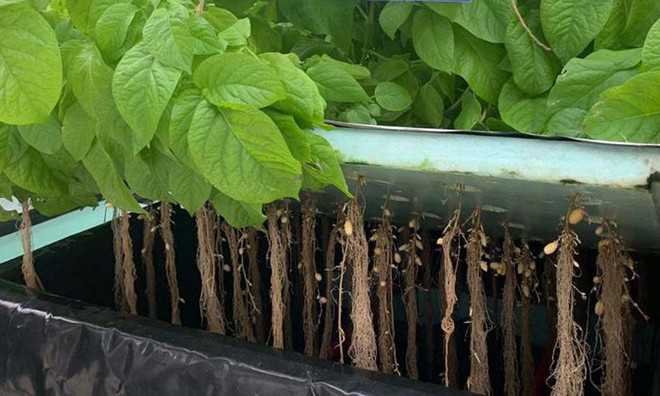 Parveen Arora
Tribune News Service
Karnal, May 22
Soil and other growing media, such as cocopeat, are no longer necessary for growing potato as Potato Technology Centre (PTC) at Shamgarh in Karnal with the help of Central Potato Research Institute (CPRI), Shimla, is going to start work on a research project for producing potato in air by the aeroponics technique.
Aeroponics is a process of growing potato in air or mist environment without soil and other growing media.
It is a Rs 6-crore project and the budget for it has already been sanctioned. The PTC will call tenders for it once the model code of conduct ends.
"We will set up three units of aeroponics seed production to produce short-duration and climate-resilient potato varieties. The trial for it will be started by the end of September," said Dr Satyender Yadav, deputy director, PTC. "We have also signed an MoU with International Potato Centre (CIP), Peru, for assistance in the project and for providing new advanced heat-tolerant varieties, high dry matter and short-duration varieties," he said.
Dr PK Mehta, senior consultant at the PTC, said, "India is the second largest producer of potato in the world. It produces around 46.4 million ton and is the third most important food crop in the country after rice and wheat. At present, the per capita consumption of potato in the country is around 34 kg a year. The demand for potato is likely to rise in future and to meet this rising demand, the country will have to produce 125 million ton (MT) by 2050."
"Haryana is producing around 10,000 MT seed against the requirement of 1 lakh MT due to which it is dependent on Himachal Pradesh and Punjab. It, however, has the potential to increase productivity," he said.
Yadav said the currently available short-duration varieties had high degeneration rate and poor keeping quality due to low dry matter, but the seed to be produced through aeroponics would have high production as it would give 30-50 mini-tubers (potato) from one plant in comparison to eight mini-tubers when grown in soil.
About the technique, Yadav said they would plant micro-plants in the aeroponics unit and roots would be suspended in the air in the dark chamber of a high-tech greenhouse. The nutrient supply to roots would be made through nozzles under pressure. "With no exposure to soil, there is no threat of soil-borne diseases. This technique will also contribute to saving around 30-40 per cent of nutrients and fertilisers in comparison to the conventional method. Through the conventional method, we get crop for three month, but the crop can be extended to 180 days with this technique," he said.
---
What is aeroponics?
Aeroponics is a process of growing potato in air or mist environment without soil and other growing media
For cultivating potatoes, micro-plants will be planted in the aeroponics unit and roots will be suspended in the air in the dark chamber of a high-tech greenhouse. The nutrient supply to roots will be made through nozzles under pressure