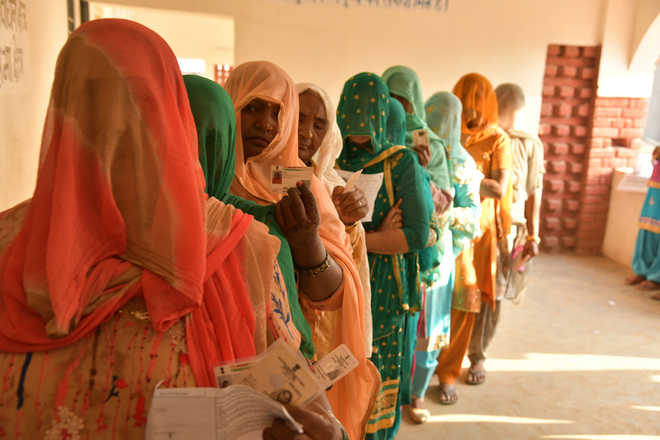 Sushil Manav
Tribune News Service
Chandigarh, October 21
An interesting pattern of polling has emerged in the Assembly elections in Haryana where a heavy turnout has been witnessed in constituencies where keen contests were expected while fewer voters turned up where a relatively 'one-way' contest was being expected.
Besides this, a clear rural-urban divide has been seen in the polling pattern with villagers coming out in large numbers to cast their votes in rural Assembly segments while on the urban seats a low turnout has been witnessed.
In Tohana, where the state BJP chief Subhash Barala was locked in a tough contest with Devender Babli of the JJP, the highest turnout at 80.56 per cent has been witnessed, while the lowest turnout of 45 per cent was seen on the Panipat City seat where BJP's Pramod Vij was said to be in a comfortable position.
Similarly, the Karnal Assembly seat where Chief Minister Manohar Lal Khattar was said to be contesting a 'one-way' election practically, only 49.30 per cent voters came out to cast their votes.
Among the seats that witnessed a high turnout were: Kaithal (77.79 per cent), where AICC Media Incharge Randeep Surjewala was locked in a tough contest with Lila Ram Gujjar of the BJP; Kalayat (75.2 per cent), where Jai Prakash of the Congress was in a triangular contest with the BJP and the JJP; Jagadhari (73 per cent), where Haryana Assembly Speaker Krishan Pal Gujjar was facing a tough contest from Adarsh Pal Singh of the BSP and Akram Khan of the Congress; and Fatehabad (76.7 per cent), where Dura Ram of the BJP was facing a fierce battle with Virender Siwach of the JJP and Prahlad Singh Gillankhera of the Congress.
Likewise, Narnaund where Finance Minister Captain Abhimanyu was facing a tough challenge from Ram Kumar Gautam of the JJP, 77.75 per cent voters came to cast their ballot.
Uchana, where JJP's Dushyant Chautala was facing Prem Lata of the BJP, a fairly high turnout of 67 per cent was witnessed.
Former CM Bhupinder Singh Hooda's Garhi-Sampla-Kiloi (67.1 per cent), Naina Chautala's Badhra (70 per cent) and Kiran Choudhry's Tosham (70 per cent) are some other Assembly segments where tough contests were witnessed. In contrast, Panchkula (58.7 pc), Ambala Cantt (56.6 per cent), Hisar (53.8 pc) are some Assembly seats where the BJP candidates were said to be comfortably placed. A clear difference can be witnessed in twin cities of Yamunanagar and Jagadhari, where a turnout of 62.46 per cent and 73 per cent, respectively, was witnessed.
Ghanshyam Dass Arora of the BJP has a distinct edge over his rivals at Yamunanagar while Speaker Kanwar Pal Gujjar is locked in a tough contest at Jagadhari.
"When contenders are locked in a keen battle, their supporters try to bring every possible sympathiser of their candidate to the polling booth for casting votes, whereas in a one-way poll, no one bothers, since the stakes are low," said a political observer.
He said that as far as the rural-urban divide in poll percentage is concerned, it is an old trend that rural people come out in more numbers than their urban counterparts to exercise their right to franchise.
Polling pattern
80.56%
Tohana
State BJP chief Subhash Barala locked in a tough contest with JJP's Babli
45%
Panipat City
BJP's Pramod Vij said to be in a comfortable position
49.3%
Karnal
Chief Minister Manohar Lal Khattar said to be contesting a 'one-way' election
The dice is cast, now all eyes on october 24
Turnout takes a dip
The voter turnout remained 65.1% till 6 pm on Monday. In the Lok Sabha elections earlier this year, the turnout was 70.64%. The voting percentage in the 2014 Assembly polls was 76.13%. In 2009 polls, the turnout was 72.29%.
13 FIRs registered
As many as 13 FIRs, including seven in Nuh, four in Rohtak and two in Narnaul, registered during the elections. As many as 70 FIRs were registered in the the recent Lok Sabha polls. In the 2014 Assembly polls, there were 34 FIRs.
7 hurt in poll-related violence
Seven persons were injured in poll-related violence in Nuh district. In Ferozepur Jhirka, firing incidents were reported in Jhimravat and Rithad villages. A woman suffered serious injuries, but no death was reported
High voting percentage at Tohana
Tohana, from where state BJP president Subhash Barala is contesting, stood first with 80.56% voter turnout, followed by Narnaund (77.75%), from where Finance Minister Capt Abhimanyu is contesting, and Bawani Khera (SC) at 77.71%.
Our target was to cross 76% turnout. We sent SMS to 45 lakh voters and five lakh posters and banners were distributed. IAll these initiative must have an impact on polling. But a lot depends on perception about political parties and candidates, which has resulted in a low turnout. Anurag Agarwal, chief electoral officer
Top Stories