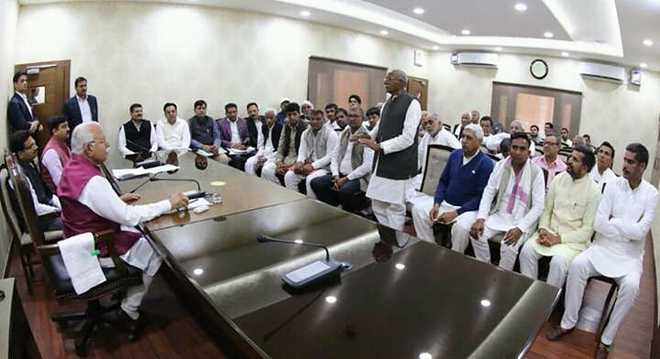 Deepender Deswal
Tribune News Service
Hisar, February 27
Chief Minister Manohar Lal Khattar will take up the issue of raising the level of the Bhakra Main Line (BML) with his Rajasthan counterpart Vasundhara Raje at a meeting in Delhi tomorrow so that the state gets its share of water to feed perched furrows in the catchment area of the Barwala branch canal.
The Chief Minister assured a delegation of farmers in this regard at a meeting held in Chandigarh today. He had invited the delegation of the Jal Sangharsh Samiti, which is leading a dharna for the last 44 days in Hisar. The samiti suspended the dharna after the Chief Minister sought six months to ensure adequate water supply in the region by taking a number of steps, including repair and desilting of canals.
Kurda Ram, pradhan of the samiti, said, "We are satisfied with the assurance given by the Chief Minister. He has assured us that there will be no shortage of funds to ensure smooth flow of water. A nine-member committee comprising five farmers, two irrigation officials and two BJP leaders will oversee the implementation of the measures required to tackle water shortage," he said.
The Chief Minister told the farmers that the government had written a letter to Rajasthan Chief Minister Vasundhara Raje Scindia and would discuss the issue of raising the BML level at a meeting of the BJP Chief Ministers called by Prime Minister Narendra Modi in Delhi tomorrow.
It may be recalled that a joint inspection by states and members of the Central Water Commission in 2012 had recommended maintaining the level of the BML canal at 19.4 feet as against 18 feet to feed the Barwala link channel. After its completion, it was estimated that the water capacity of the Barwala canal would rise from 1,200 cusecs to 1,400 cusecs and possibly more.
Haryana had given around Rs 4.88 crore to Punjab for executing the BML work that had started. However, Rajasthan objected to the project and Punjab stopped the work midway in 2015.
Prof Sampat, a former minister, claimed that the availability of more water in the BML would increase the flow in the Barwala branch and thus help in restoring the two group systems in the area.
Meanwhile, farmers alleged that around 40 villages in the Nalwa and Adampur segments are the worst affected due the change in the group system of the Barwala branch.