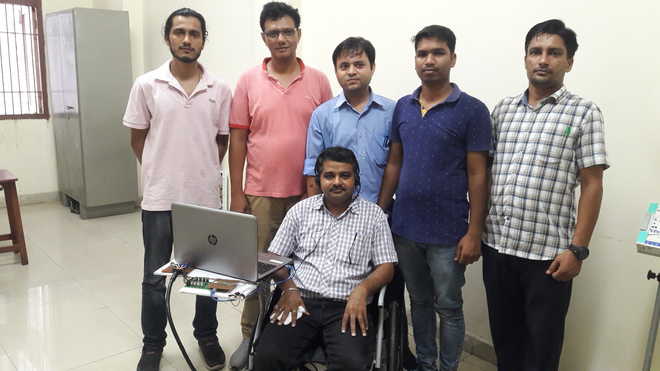 Vishal Joshi
Tribune News Service
Kurukshetra, August 23
The non-availability of low-cost, multi-controllable motorised wheelchairs in the market prompted a team of faculty members and students of Kurukshetra University to come up with one.
It took them more than one year of work at the University Institute of Engineering and Technology (UIET) to contribute to the betterment of people with special needs.
A prototype of the voice-activated wheelchair is programmed with seven commands — run, stop, reverse, fast, left, right and slow.
Prof CC Tripathi, Director, UIET, said the innovation could benefit patients suffering from spinal cord injuries or with medical conditions related to limbs.
He said the project was funded under the MHRD's Technical Education Quality Improvement Programme (TEQIP) in April last year.
Tripathi credits MTech students Bhupender Kumar and Yogesh Paul for their pivotal role in building the prototype.
"The team, headed by UIET Assistant Professor Ram Avtar, worked hard on the project. The wheelchair can easily be customised as per the needs of the patient. Engineers can programme the chair by using the voice command of the beneficiary for best results," said Tripathi.
Faculty member Vineet Kumar said a voice-activated wheelchair could be made for Rs 30,000. "The prototype has been programmed to take commands in English, but the software can be customised to accept commands in any language with certain technical amendments," he added.
"Our prototype has been tested with 95 per cent success rate. Noise in surroundings may cause disturbance for the electronic chip to identify the voice command. This problem may be rectified by using voice filters," he said.
Dr Sanjay Kajal, senior faculty member of mechanical engineering, said the speech recognition technology had a potential to offer a solution to people with special needs.
In the next phase, the department would develop a prototype of a wheelchair — a mind-controlled wheelchair that may work on receiving electrical activity produced by skeletal muscles.