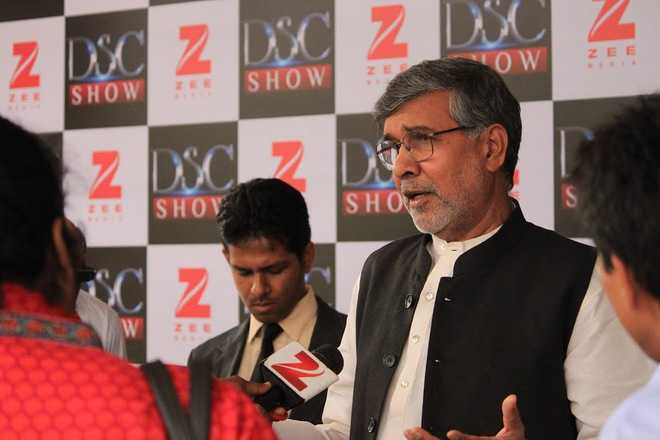 Sunit Dhawan
Tribune News Service
Rohtak, September 2
Nobel laureate and children's rights activist Dr Kailash Satyarthi will launch a Kashmir to Kanyakumari Bharat Yatra from September 11 to October 16 to create awareness about child sexual abuse.
Satyarthi stated this here today while addressing students and faculty members of the Indian Institute of Management (IIM) on the issue of child abuse. Media baron and Rajya Sabha MP Subhash Chandra was present.
"Child abuse has become an epidemic in our society and the sole reason for this is our reluctance to discuss it openly," said Satyarthi. "Schoolchildren are taught about every kind of safety but our parents and teachers are usually straitlaced in addressing the child's social safety," he added.
He said, according to a 2016-17 UN report, 53 per cent of children had been victims of sexual harassment before they attain the age of 18 years. "The saddest part is that almost 70 to 80 per cent of sexual harassment cases take place within the family. The victims often do not have the courage to report such incidents. On other occasions, they are discouraged by their parents, who fear that the family's honour will be jeopardised," the child rights activist added.
He said instead of suppressing such cases or shaming the victims, it is high time that society start dishonouring the perpetrators and boycotting them. In 2016, nearly 15,000 cases of child abuse were reported, of which only 10 per cent have reached the trial stage as yet.
Satyarthi said there was an urgent need of special judges in courts to handle cases related to child abuse. Besides, witnesses should be provided protection so that people come forward without fear to help in providing justice to the victims, he added.
The Nobel laureate urged the students to get united against the menace. He cited his own example of standing firmly against child labour despite several threats and assaults.
He concluded with the message: "We, as a society, should move forward together to prevent our nation from becoming hollow and save the next generation from the predicament of child abuse".
Top News
Severest of severe action taken: CM | Amritpal's lawyer alle...
BJP slams Cong for skipping RS Chairman's meeting
White House refuses to comment on claim