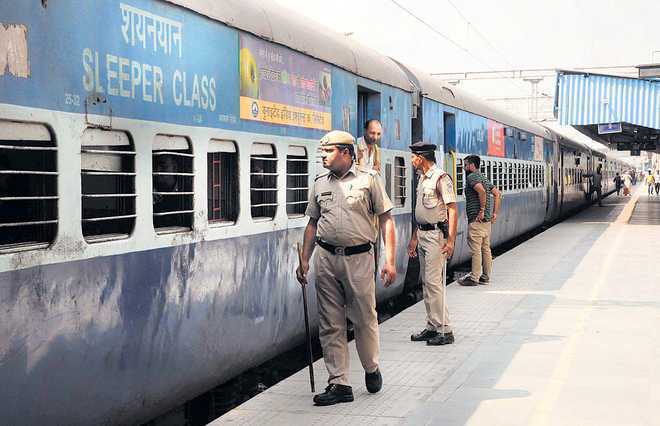 Nitish Sharma
Tribune News Service
Ambala, September 25
The station director at the Ambala Cantonment railway station on Tuesday received a threat letter purportedly from LeT area commander Molvi Abbu Bukhari Kishtwar Kashmir, Karachi, Pakistan, to blow up railway stations and religious places in Haryana and Uttar Pradesh.
The letter was found by Ambala Cantonment station director BS Gill on his table today.
However, there was no stamp of any post office on the letter cover and it appears that someone has put the letter on his table.
The letter reads to avenge the atrocities against the Muslims by the Hindus and Sikhs, very soon on October 20 the Jihadis will blow up several railway stations including Ambala Cantonment, Jagadhri, Saharanpur, Rewari, Panipat, Kurukshetra, Sirsa, Jakhal and Hisar.
Besides these, the military camps, railway bridges and petrol pumps would be blown up in Haryana and Uttar Pradesh.
There is a threat to even blow up temples too in Ambala, Kurukshetra, Karnal, and Saharanpur on November 10.
After seeing the letter, the director reported the matter to Government Railway Police officials.
DSP GRP Shital Singh said, "Alert has been sounded. Among the routine letters, someone has put the threat letter on director's table. All the CCTV footage will be analysed. Security agents and all officials have been directed to gather all information. "
It is also being suspected that it could be a prank of a railway employee.
To a query, he said, "It could be a prank too. Maybe some official had rebuked any railway employee and he may have sent the letter. The matter is being investigated. We will check all the angles and find out the truth. "
Sources said that it is being suspected that the letter may have originated from Ambala only.
The officials attempted to get some clue from the CCTV footage of the railway station but found nothing as while some cameras were not working and the remaining were not covering the room of the station director.
A case has been registered at the GRP station under Sections 124 a, 153 a, 295 a, 505 (1) (b) of IPC.
Divisional Railway Manager Dinesh Chand Sharma said, "The matter has been brought into the knowledge of the GRP and the matter is being probed."
On October 12, 2011, around 5kg RDX was recovered from a car parked in the parking lot at the station.