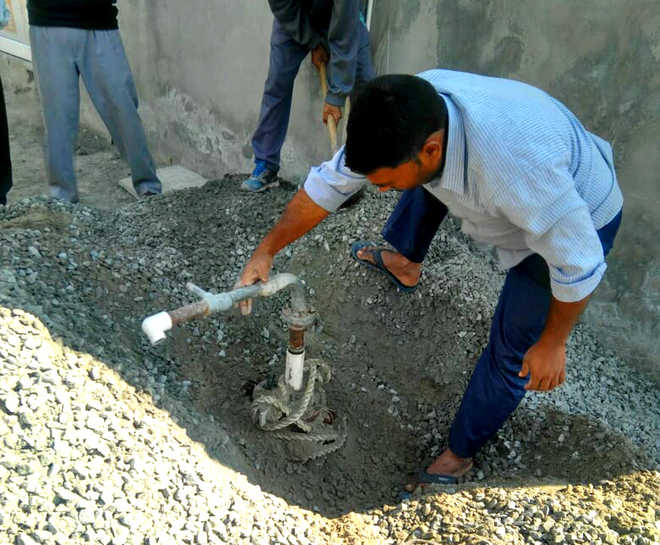 Ravinder Saini
Tribune News Service
Mahendragarh, March 11
A team of the groundwater cell with the Agriculture Department has found stone crushing units in Narnaul and Nangal Choudhary blocks utilising groundwater commercially in violation of rules.
The extraction of groundwater for the commercial purpose is illegal in the two blocks, which have declared a "dark zone", because doing so depletes water table.
The team sealed 18 tubewells installed in stone crushing units at Jainpur, Gangutana, Bakhrija, Karota and Faizabad villages. One of the tubewells belongs to an influential leader of the BJP.
Several farmers were also found selling groundwater to the units by extracting it through their tubewells meant for the agricultural purpose. The cell has put such farmers on notice.
Sources say the action has been taken on the basis of a survey conducted by the cell to find out the source of water being used by the units for carrying out their commercial activities.
"As per rules, every stone crushing unit is bound to install water sprinklers for checking the dust extraction to keep the environment clean, but the units cannot use groundwater for this purpose. A sewage-treatment plant (STP) must be established so that sewage can be used to suppress the dust after treatment. The unit can buy water from government's STP set up in Narnaul to meet the need for extra water," the sources said.
Yashpal, section officer (SO), groundwater cell, said: "Tubewell owners are being asked to install meters on their tubewells so that their monthly usage of groundwater can be ascertained. The move aims at checking the commercial use of groundwater. None of 18 tubewells that have been sealed had meters."
Illegal activity
The extraction of groundwater for the commercial purpose is illegal in Narnaul and Nangak Choudhary
The two blocks have been declared a "dark zone"
One of the 18 tubewells seized belongs to an influential leader of the BJP
Top News
New legislation aims to regulate Net | Wants Google, Faceboo...
First US ex-Prez to face such ignominy
Xiaomi accused of 'unauthorised' remittance of this amount i...
Sane also allegedly told interrogators that he was HIV-posit...
Many local villagers were engaged in illegal mining when the...