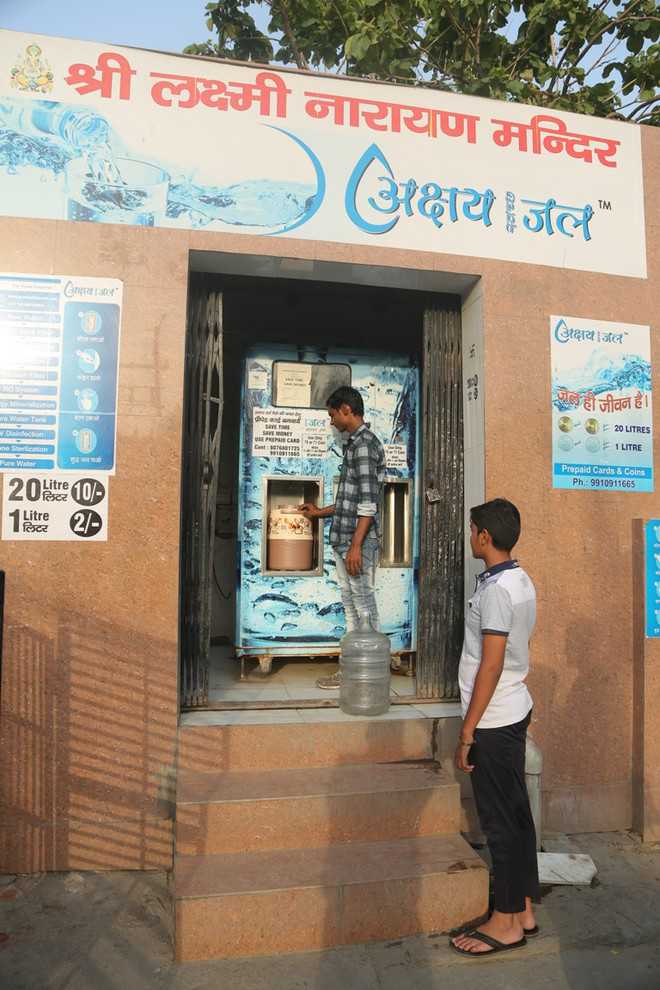 Bijendra Ahlawat
Tribune News Service
Faridabad, May 21
Several parts of the city are facing shortage of drinking water these days.
Several water ATMs (automatic dispensers) have been installed to meet the demand, but the major issue is still the quality of water being supplied in the city having a population of nearly 18 lakh.
"The quality of water is poor and it is totally unfit for consumption as its total dissolved solvents (TDS) level is several times higher than the safe value," said Suresh Kumar, a resident of Dabua Colony in the NIT area here. He said the water being supplied was used mainly for the purpose of washing and bathing and they had to procure drinking water from the market.
"My RO machine developed a snag within a year as the TDS level was much higher and we have to purchase potable water from a private supplier," said Rajkumar, a resident of Sector 10 here.
Kulbir of Sanjay Nagar Colony said that water supply was poor or erratic and residents had to depend on private tankers that charge anywhere between Rs 500 to 800 per tanker.
"The movement of tankers gets doubled in our colony as the pipelines go dry during May and June," said Rajesh Kumar, a resident of Parvatiya Colony.
"The city was getting a supply of 220 MLD daily against the demand of 232 MLD," said Raman Sharma, Superintending Engineer, Municipal Corporation (MC), Faridabad. He said 80 MLD was being supplied through 1,411 tubewells and 120 MLD was being supplied from 14 Ranney wells operating from the Yamuna riverbed in the district. He said 18 water ATMs had been installed that charge Re 1 per litre. "The MC has a fleet of 215 tankers that supply water in the areas facing the problem," he added.
Mohammed Shayin, Commissioner, MC, said a total of 88 private tubewells operating illegally had been sealed in a recent drive to overcome the water crisis. He appealed the residents not use the drinking water for washing vehicles or for gardening purpose.
Top News
Was speaking to Indian journalists in Washington
This comes amid a diplomatic row between India and Canada ov...
Granthi Giani Jaswinder Singh from Pine Hill Gurdwara in New...
Heavy security deployed to deal with the situation
Family say all 3 accused knew Hrithik and that there were no...