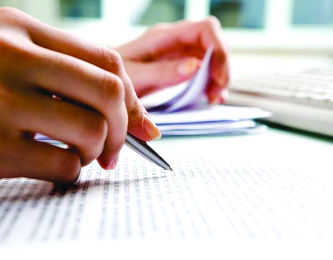 Ravinder Saini
Tribune News Service
Rewari, September 17
A curious case of hefty increase in marks by "re-evaluation" of already re-evaluated answer sheets, a process not allowed generally, has come to light at Indira Gandhi University here.
Himanshu Sangwan, the student who benefited from the second re-evaluation in his MSc (Geography) third semester examination, happens to be the son of then Head of the Geography Department, RS Sangwan. Even more interesting is that the Sangwan Senior was allegedly present in the re-evaluation room when the marks increased in two papers from 48 to 70 and 53 to 66.5. This was stated by a clerk dealing with re-evaluation during an inquiry ordered by Vice Chancellor Prof SK Gakhar.
A committee that conducted the probe found alleged violation of norms and has recommended random inquiries to nail those involved in wrongdoings, if any. Taking a serious note of the committee's report, the VC has ordered re-examination in the case.
"Himanshu made a representation to then VC on March 26 for reconsideration of his results after re-evaluation of answer sheets resulted in his marks decreasing from 49 to 48 and 54 to 53. The then VC constituted a committee on the request of the DR (Exam), which met in April and recorded in its minutes that it thoroughly evaluated Himanshu's both papers and his final score jumped from 48 to 70 and 53 to 66.5," states the inquiry report.
Alleged irregularities came to light when the Superintendent and the dealing clerk (Secrecy Branch) complained to the VC claiming "they were pressured by the DR (Exam) and then Controller of Examination (CoE) to put up Himanshu's case for re-evaluation even though rules didn't permit", the report mentions.
"The clerk also said the re-evaluation was done in the office of the DR (Exam) in the presence of Himanshu's father. As a result, Himanshu's score improved from 48 to 70 in Quantitative Technique and 53 to 66.5 in Geography of Haryana paper," the report says.
The report observes that "prime facie, it's a case of fraud, manipulation, nepotism, abuse of official position where rules were violated and secrecy norms flouted by the DR (Exam) and then CoE.
Prof Gakhar said though the case didn't pertain to his tenure, he issued orders for re-examination as soon as it came to his knowledge. "Further action will be taken as per rules," said the VC.
Suresh Dhanerwal, who has additional charge of Controller of Examination, said re-evaluation of already re-evaluated answer sheets could not be done as per rules.
When contacted, RS Sangwan claimed his son was a meritorious student and had even cleared the Junior Research Fellowship test. "Injustice was done with him by giving him less marks in two papers despite good performance," he said.