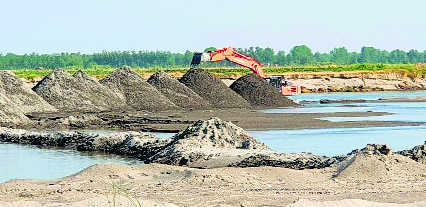 Shiv Kumar Sharma
Tribune News Service
Yamunanagar, May 19
A mining company has been booked for causing blockage in the Yamuna by constructing an unauthorised bundh across the river in Gumthala village to undertake mining activities at the riverbed.
In his complaint to the police, Satyendra, sub-divisional engineer, Hathnikund barrage, Jagadhri, said that during a visit to Gumthala on May 9, he found that the representatives of agency M/S Joginder Singh had caused obstruction by constructing an unauthorised bundh on the Yamuna.
He further said that he had directed the representatives of the agency to remove the bundh immediately and they had partially removed the bundh on May 13.
"A notice was issued to the agency on May 14, directing it to remove the bundh completely but the agency denied receiving the notice. Therefore, he along with a junior engineer of the department pasted the notice on the site office of the agency on May 16," the complainant said.
He said that thereafter the illegal bundh (obstacle) created by the agency was removed by it in the presence of the Radaur SDM, Executive Engineer, Hathnikund barrage division, Mining Inspector and the SHO, Jathlana, on May 16.
"But on May 17, the agency had again constructed the bundh across the Yamuna," the complainant alleged.
A case was registered against M/S Joginder Singh under Section 431 (commit mischief by injury to river or channel) of the IPC and Sections 45 and 58 of the Canal and Drainage Act, Haryana, at Jathlana police station on May 18.
Gumthala North Block (Yamunanagar) of the Yamuna riverbed mining was allotted to M/S Joginder Singh as this company offered the highest bid of Rs 7,41,50,000 in 2015. It started carrying out sand mining (on allotted 44.62 hectares) from December 26, 2016.
Social worker and advocate Waryam Singh said the company had been carrying out mining after constructing illegal bundhs across the river.
Total disregard for law
May 9 Satyendra, sub-divisional engineer, visited Gumthala village and found that the representatives of agency M/S Joginder Singh had constructed an unauthorised bundh on the Yamuna
May 13 The company destroyed the bundh, but partially
May 16 The authorities destroyed the bundh completely
May 17 The company again constructed the bundh across the Yamuna river