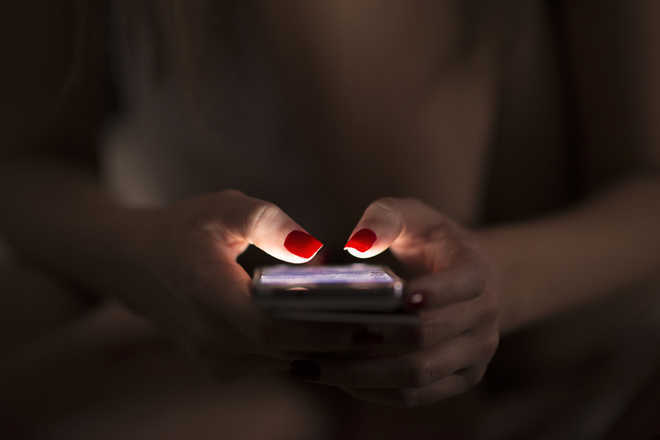 Sumedha Sharma
Tribune News Service
Gurugram, September 18
Clad in a bright 'salwaar kameez' and a long veil, 35-year-old Naazia (name changed) appears to be yet another ordinary woman of Kaama village in Mewat. But hand her a smartphone and she transforms into Naaz Khan, the star 'honey-trapper' of her belt.
Infamous for her seductive voice and ability to lure men on social media, Naazia is often contracted to extort money by honey-trapping men and then threatening them with rape cases or helping fraud online gangs of the NCR to dupe gullible customers, say sources.
She recently spent a month in a Rajasthan jail after being caught with a fraud online sale-purchase gang, but that hasn't proved to be any deterrent. She is on the prowl again, hunting for "moneyed targets". "The online (fraud) thing is a bit tricky as people, for sure, go to the police. So, I don't go for it until the offer is big. The best way is trap someone on social media, threaten him with a rape case and make money. A majority of the men are image conscious and never approach the police even if they have to cough up hefty amounts," says an unrepentant Naazia.
She says she has been doing this for two years and spends almost seven hours daily scrolling social media sites looking for unsuspecting men, mostly in early 40s. Having filed over 10 rape complaints in various police stations of Haryana and Rajasthan, an unfazed Naazia says "she can't help it as she too needs money to eke out a living, and why not if it comes via a smartphone".
Sources say Naazia isn't the only honey-trapper active in the area as there are over 50 other women into the same "business" in villages like Raam Garh, Naugaon, BarodaMev, Govindgarh, Bagadh, Tiraha, Chikani, Kushangarhbas, Tijara, Tapukra, Zindauli, Dehra Shahpur, Jaluki, Deeg, Kaama, Pahadi and Kaithwada. These women, sources say, function with fraud gangs (having three-four men) in a highly skilled manner and manage to earn anything between 50,000 and 1 lakh per victim.
Before luring men, the gangs study the social media behaviour of their "targets" to ensure they are moneyed and don't involve them in any legal hassle, say sources. As the men they lure often insist on voice calls through social media sites to conceal their identity, the women are provided with SIM cards that can be dumped as soon as money changes hands, say sources, adding all these illegal activities are carried out in small lodges in Bhiwadi or Alwar and in some cases in Delhi's Mehrauli area.