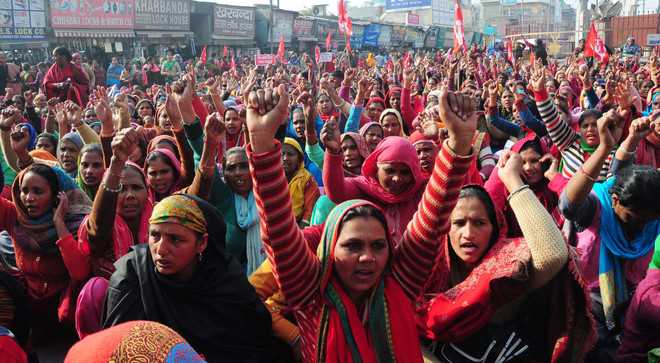 Tribune News Service
Yamunanagar, January 17
A large number of anganwadi, ASHA and midday meal workers held a protest march here today.
Later, the agitated workers gathered at the Nehru Park and staged a dharna.
The protest was held under the banner of the Centre of Indian Trade Union (CITU).
President of Midday Meal Association Sharbati Devi said they had been demanding the regularisation of the services of anganwadi, ASHA and midday meal workers, but the government had taken no action in this regard.
She said till the time the government regularises the services of the said workers, it should pay them a minimum salary Rs 18,000 per month.
Devi said the government should also give pension to the retired workers.
Meanwhile, president of Anganwadi Workers Union Rekha Saini warned the government that if their demands were not met soon, they would launch a 'Jail Bharo Andolan' on January 30.
Trade unions go on strike
Ambala: A large number of midday meal and ASHA workers observed a strike and held a protest march in the city today.
The protest was jointly led by district chiefs of Midday Meal Workers' Union Kamlesh Chauhan and ASHA Workers' Union Anju Verma. The workers gathered at Mahavir Park and raised slogans against the government policies. Later, they submitted a memorandum addressed to PM Narendra Modi at the DC office.
Their demands include the implementation of the 45th Indian Labour Conference, regularisation of services of ASHA workers, minimum wages of Rs 18,000 per month and no privatisation of schemes.
Leaders of Sarva Karamchari Sangh, Haryana, and various other unions also supported their demands. The union leaders said if their demands were not met, they would be forced to intensify their protest.
Threat to intensify stir
Jhajjar: Midday meal workers held a joint protest and burnt an effigy of the state government at Ambedkar Chowk here today.
Earlier, they gathered at Pandit Shri Ram Park and decried the government for its lethargic attitude towards their long-pending demands. The protesters were demanding a remuneration of Rs 18,000 per month. They have also threatened to launch a state-wide agitation, if the demands are not met soon.
Top News
In fresh tweet, says don't use Maiden syrups