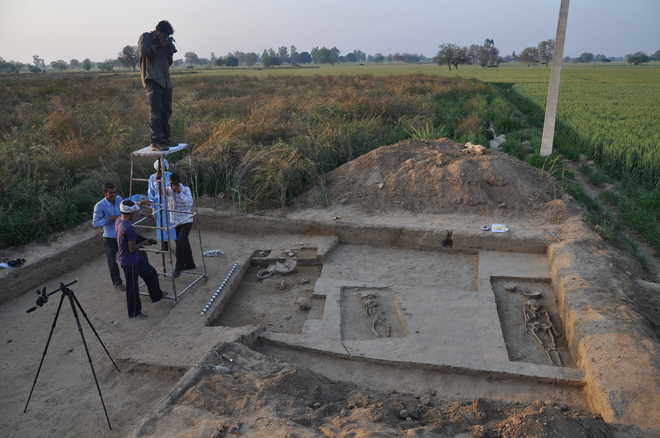 Deepender Deswal
Tribune News Service
Hisar, June 15
Three years after digging out human skeletons from the Harappan-era graveyard in Rakhigarhi village, archaeologists have concluded that there was no large-scale influx of foreigners or migration of locals, indicating those living in Haryana and the Ghaggar basin now are descendants of original inhabitants.
Prof Vasant Shinde, Vice Chancellor of Deccan College, Pune, said on Friday that the DNA analysis of 5,000-year-old skeletal remains belonging to the Indus Valley Civilisation revealed that there had been no migration from this region for the last 10,000 years.
"The Aryan invasion theories, stating that people from other countries arrived in India while locals migrated, are no longer relevant. There is no substance in these theories. Maybe the term Aryan, which is being used from the Vedic era, was used for a tribe or community," he said. He asserted that they were saying this on the basis of actual data.
"We cannot depend only one source and must have complete information on the period to arrive at a conclusion. Our data has been analysed in two laboratories, Centre for Cellular and Molecular Biology, Hyderabad, and Birbal Sahni Institute of Palaeosciences, Lucknow. We are now getting the data cross-examined at Harvard University before publishing the paper in a research journal," he said.
Professor Shinde stated that facial reconstruction and physical appearance of the skeletons had striking similarity with current inhabitants of Haryana and Punjab. He said facial reconstruction and pathological studies were being carried out in the Seoul National University College of Medicine in South Korea.
"The sharp facial features and build-up of Harappan skeletons and current inhabitants are identical. We can say that those who lived about 5,000 years ago in Haryana are the ancestors of the current population," he maintained.
"We will soon make the findings public for the scrutiny of scientists. We have collected DNA samples of current inhabitants for matching these with Indus Valley Civilisation samples. We are looking into genetic similarities of Harappan and present-day population," he stated.
He said they had extract DNA from three human skeletons while many other samples had got contaminated. "Climatic conditions in this region are not favourable for preservation of skeletons for long. Whatever we managed to extract provides very crucial information," he said.
He reiterated that Rakhigarhi, spread over 550 hectares and divided into nine zones, had emerged as the metropolis of Harappan times, which was the hub of administration and trade. "People have trade relations with central Asia and there is a lot of evidence in Rakhigarhi to prove it," he added.
Top News
Health Ministry launches probe into four alleged substandard...
Addressing a rally, Shah asks whether terrorism has ever ben...
MEA had reacted sharply to Ilham Omar's visit to PoK
Development in Himachal possible as people voted BJP to powe...
The Ministry of Defence spokesperson from Tezpur says the mi...