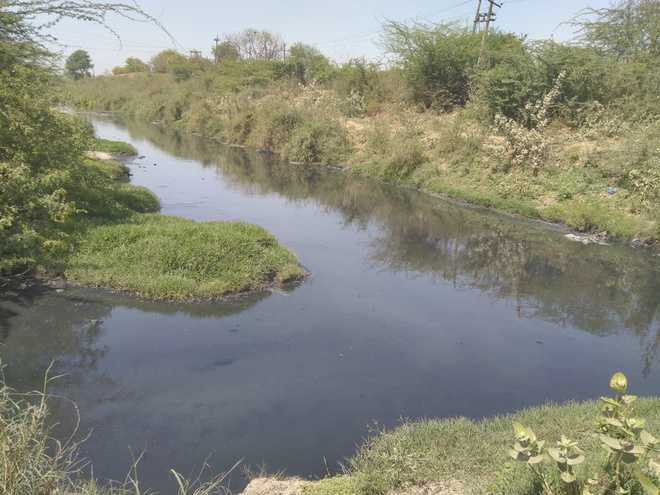 jendra Ahlawat
Tribune News Service
Faridabad, April 23
The Haryana State Pollution Control Board (HSPCB) has issued show-cause notices to 14 large and medium-scale industrial units for releasing untreated water effluents into drains and not complying with its order to install the online effluent monitoring system.
Jai Bhagwan Sharma, regional officer, HSPCB, Faridabad, said two months ago, a reminder was issued to industrial units in Faridabad and Palwal to install the monitoring system, as it helped keep a check on the level of pollutants emitted by them. He said the system might cost around Rs6 lakh, but non-compliance would result in the closure of such units.
The bio-chemical oxygen demand (BOD), the unit for measuring pollution level in water bodies, had been hovering between 35 and 38 in Faridabad against the safe level of three. As many as 31 units in Faridabad region and 74 units in Ballabgarh are required to install the online monitoring system. A notice had also been issued to the Municipal Corporation, Faridabad, for the higher BOD in the region, as it reflected the poor working of the four sewerage treatment plants maintained by it, it is reported.
Meanwhile, Varun Sheokand, a social activist who had filed a complaint with the National Green Tribunal (NGT) in 2016 regarding the discharge of pollutants (untreated waste) by dyeing units in the Neharpar area of Faridabad, said 250 such units were still operational in Kutta Farm, Palla, Wazirpur, Tilpat and the Sehatpur locality despite the directions issued of the NGT to seal them.
Using illegal water and power connections, these units had been discharging pollutants in drains that connect to the Yamuna and other canals, said Sheokand.
Sharma said 125 units had been sealed in a drive in 2017 and similar action would be taken against the 14 units soon.
Top News
Says strength of democratic institutions to figure in discus...
BKU protests as sunflower not procured on MSP
Kuki insurgents target soldiers' camp in school
NCB unearths pan-India trafficking | 6 held, all in their 20...