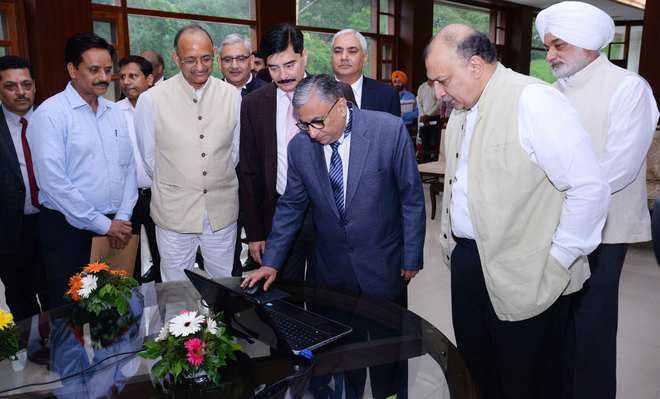 Bijendra Ahlawat
Tribune News Service
Faridabad, August 17
The first virtual court in Haryana for the online disposal of traffic challan cases was inaugurated here today.
Mr Justice Krishna Murari, Chief Justice of Punjab and Haryana High Court, inaugurated the court through video conferencing around 4 pm. He said that the court would prove to be a milestone in disposal of related cases, as it would eliminate the need of physical presence of litigants. The litigants, he added, would be able to pay the fine online, by visiting the website of the virtual court anywhere. The project has been launched under the guidance of the e-Committee of the Supreme Court of India.
He said that the e-court would be dealing with traffic challan cases of entire Haryana. He added that the cases received in the virtual court could be viewed by the Judge along with automatic computation of fines on the screen. "Once summons are generated and the person gets information on email or SMS, he or she can visit the virtual court website (v.courts.ecourts. gov.in/virtual court) and search the case by giving the CNR number or the name, or even by driving licence number etc," he said. Once the person pleads guilty online, the fine amount would be displayed and he could proceed to pay it. On successful payment and realisation of the fine amount, the case would be automatically disposed of.
According to officials concerned, if the person does not plead guilty, his or her case would be remanded to regular courts.
Justice Dr Ravi Ranjan, chairman of Computer Committee, has impressed upon the governments of Punjab, Haryana and Union Territory Chandigarh to waive the Merchant Discount Rate charges on the fine amount exceeding Rs 2,000. As the virtual court would reduce the burden on regular courts, the entire process of disposal would happen online. The footfall in regular courts would reduce considerably.
Top Stories
After bhoomi pujan in Ayodhya, Bhagwat says have fulfilled r...