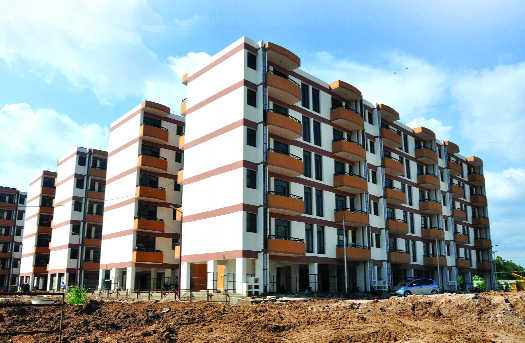 Pradeep Sharma
Tribune News Service
Chandigarh, March 17
In a decision that will go a long way in taking care of the housing needs of residents, the Haryana Government has finally allowed registration of fourth floor as independent dwelling unit in residential areas across the state.
However, the registration of the fourth floor will come at a price as building owners will have to shell out external development charges (EDC) and registration charges on the land cost.
"The apportionment of land cost shall be in equal proportion among all independent floors i.e. 50 per cent each for two floors, 33 per cent each for three floors and 25 per cent each for four floors," an order by AK Singh, Principal Secretary, Town and Country Planning Department, said.
"The fourth floor as independent dwelling unit will be allowed on payment of one-third of applicable external development charges (EDC) against the plot area to be rounded off to the next higher Rs 10 at the time of approval of building plan," the order said. For registration purposes, the Sub-Registrar will follow the land price apportionment for each independent floor. The construction cost will be as per the collector rates, the order said adding that the buildings would have to conform to the Haryana Building Code 2017. To take care of the parking problem in towns, stilt parking has been made mandatory for the approval of building plans for new constructions and for all buildings proposed to be reconstructed.
According to the new order, the maximum permissible height for a building will be 16.5m. However, for the approval of the building plans for height above 15m, the owners will have to take a no-objection certificate from the Fire Department and also submit a certificate of structural stability.
Meanwhile, the EDC received from property owners will be transferred to the respective agencies such as the Haryana Shehari Vikas Pradhikaran, Gurugram Metropolitan Development Authority, Haryana Industrial and Infrastructure Development Corporations and respective municipal bodies for carrying out development work. The order clarified that the additional EDC would not be charged in case of construction of four floors with three dwelling units.
Last year, the Khattar government had taken an 'in-principle' decision to approve the plans of the buildings with fourth floor as independent unit. However, the issue of the registration of the fourth floor as independent unit hanged fire for want of apportionment of land cost among all independent floor owners.
Stilt parking must for New buildings
Fourth floor owners to pay one-third of EDC rounded off to next higher Rs 10
Apportionment of land cost in equal proportions for all independent floors — 25% each for 4 floors
Maximum height allowed is 16.5m
Stilt parking must for new constructions
Top Stories