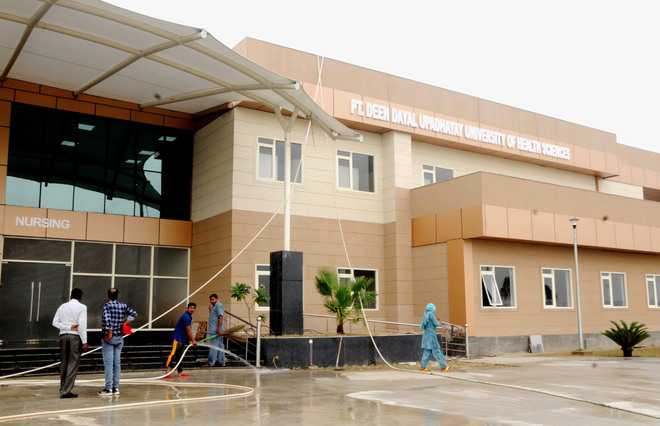 Parveen Arora
Tribune News Service
Karnal, September 11
After a delay of 11 months, the construction work of the buildings of nursing and physiotherapy colleges has been completed. Both colleges are part of the proposed Pandit Deendayal Upadhyaya University of Health Sciences, Karnal, at Kutail village. It will be constructed on 144 acres at a cost of Rs 570 crore.
Prime Minister Narendra Modi had laid the foundation stone of this university on February 12 from Kurukshetra. Chief Minister Manohar Lal Khattar will inaugurate the buildings on Thursday from Karnal city.
The authorities are hopeful that the classes of B.Sc Nursing and B.Sc Physiotherapy will start functioning from the new buildings soon. The classes are presently running temporarily from the premises of the Kalpana Chawla Government Medical College (KCGMC).
The work on the buildings of both the colleges started in April 2018. It was to be completed in six months, but work was not completed by October 2018, forcing the authorities to extend the deadline.
The authorities had planned in January to shift the classes to the new buildings in the mid of February, but the work was not completed at that time also. So, the deadline was extended to March.
"Now, the work of the buildings is complete and the Chief Minister on Thursday will inaugurate those," said Dr Surinder Kashyap, Director, KCGMC.
The state government had started the academic session of both the courses from 2018. So, a temporary arrangement was made on the premises of the KCGMC and classes are being run since November 2018 there, he said.
He added that as many as 40 seats are reserved for B.Sc Nursing and 30 seats for B.Sc Physiotherapy.
Harvinder Kalyan, Gharaunda MLA, said that Pandit Deendayal Upadhyaya University of Health Sciences in Kutail village is an ambitious project of the Chief Minister and both colleges are part of the university. "I am thankful to the CM for giving the institute to Gharaunda block which will pave the way for development," the MLA said.
CM to inaugurate Karnal auditorium
After witnessing several hiccups during its construction, the newly constructed Dr Mangal Sen Auditorium is all set for the inauguration. Chief Minister Manohar Lal Khattar will inaugurate this auditorium on Thursday afternoon. Presently, Karnal is dependent on the auditoriums of NDRI or a couple of educational institutions for functions.
Top Stories