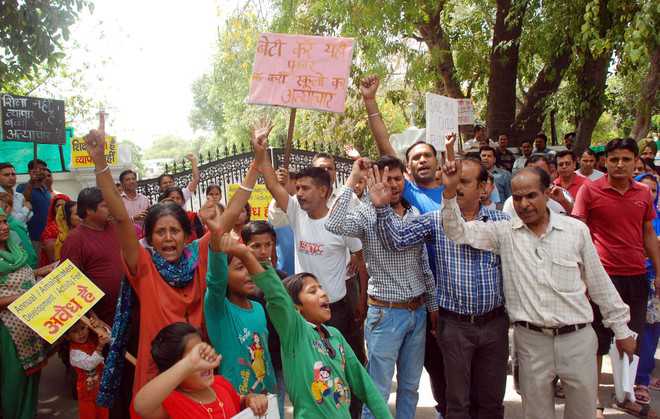 Tribune News Service
Karnal, April 19
Enraged over the alleged cancellation of application forms of some of the students, who had applied under Rule 134-A, scores of parents along with their children under the banner of the Abhibhavak Ekta Sangh, protested outside the residence of Divisional Commissioner Pankaj Yadav on Thursday.
They raised slogans against the state government and alleged that they had filed their income certificate and domicile certificates prior to April 10 to the department, but the forms had been rejected citing that the income certificates were not received by them. They also accused the department of delaying the results. However, after their protest the department declared the result.
The parents also raised the issue of increasing the fee by several private schools on the name of annual charges, smart classes, extra classes and others, which was against the education policy.
The sangh demanded the Divisional Commissioner that 33 per cent should be considered as pass marks instead of 55 per cent fixed by the department. They also said there were around 6,000 seats in Karnal under Rule 134-A, while only around 3,800 students had applied, so all the students should be admitted under Rule 134-A in the schools of their choice.
When Saroj Gur, District Elementary Education Officer, was contacted, she said the result was declared at 5 pm on Thursday. There was no delay in the declaration of result.