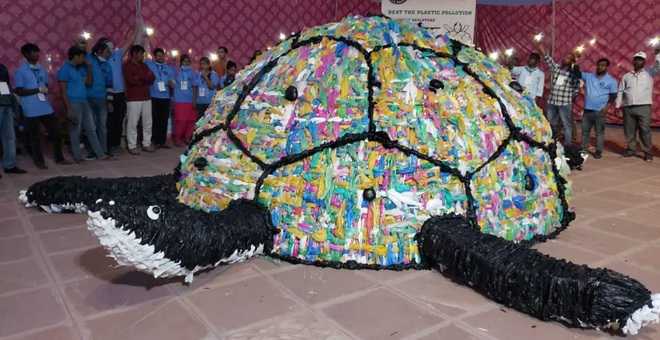 Tribune News Service
Kurukshetra, November 12
To motivate people to boycott single-use plastic and polybags, a sculpture of turtle has been prepared with the help of 87,297 used polybags, at the Urvashi Gahat of Brahma Sarovar in Kurukshetra, on Tuesday. It was also an attempt to make a new world record of creating a sculpture with highest number of used polybags.
With the help of volunteers, NIC department, Saksham Yuva and students of various schools, the sculpture was prepared today.
Dr Ritu Sharma, who took the initiative, said "It is an attempt to make people aware about the ill effects of polybags. Ci Yuvan CC Youth Executive Committee of Singapore in 2012 had created a sculpture in the shape of octopus and they had used 68,000 used polybags. We managed to collect 87,297 used polybags with the help of school children and volunteers. The sculpture will remain at the Urvashi Ghat during the International Gita Jayanti Mahotsav and then for the Surya Grahan mela, and then it will be sent for disposal. It will be sent to a cement factory for disposal. Polybags are also a major cause of cancer and we all must make efforts to stop using single-use plastic and polybags. The polybags were segregated from 200 kg plastic waste as only polybags with handle were to be used, as per the guidelines of Guinness book of world records."
The height of the sculpture is nearly 7 ft and breadth 14 ft.
In-charge of National Informatics Centre Kurukshetra Vinod Singla, said "The purpose behind selecting turtle for the sculpture was to show that turtles live for hundreds of years, live under water and on land, and even they are not safe now due to the presence of polybags in water and on land."